About Us
Founded in 1957, AGF Management Limited is an independent and globally diverse asset management firm. AGF brings a disciplined approach to delivering excellence in investment management through its fundamental, quantitative, alternative and high-net-worth businesses.
Corporate Governance Investor Relations Corporate Responsibility
An Independent and Diversified Global Asset Management Firm
As an independent and diversified global asset management firm, AGF brings a disciplined approach to delivering excellence in investment management and to providing an exceptional client experience.
Being an independent firm has allowed us to make strategic acquisitions that improve our client service experience and enable us to offer new and innovative products, while enhancing our research capabilities.
Our suite of diverse investment solutions extends globally to a wide range of clients, from individual investors and financial advisors to institutions, including pension plans, corporate plans, sovereign wealth funds, endowments and foundations.
Our Mission: To Bring Stability to the World of Investing.
Fundamental
AGF's fundamental actively-managed platform includes a broad range of equity and fixed income strategies. This platform delivers products to retail and institutional investors as well as strategic partners.
Learn More
Quantitative
AGFiQ is the quantitative investment platform which delivers custom solutions in a variety of vehicles from mutual funds to ETFs to model portfolios, all designed to provide better risk-adjusted returns by utilizing a disciplined, multi-factor process, viewing risk through multiple lenses.

Learn More
Alternatives
In 2014, AGF established a joint venture with Instar Group Inc. (Instar) to form InstarAGF Inc. (InstarAGF), in which the firm holds a 51% economic interest. InstarAGF, an integral element of AGF's alternative business strategy, is an independent alternative asset management firm with an emphasis on real assets, including infrastructure investments, in the North American middle market. AGF's alternatives business includes distinctive investment products like the flagship InstarAGF Essential Infrastructure Fund (EIF) and Stream Asset Financial LP (Stream).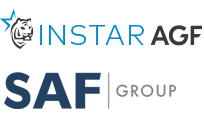 InstarAGF.com
Invested in Discipline: Our Approach
At AGF, our approach is defined by three principles. Together, they create a disciplined process that is transparent, repeatable, and deeply woven into our DNA – delivering consistent outcomes for our clients, whatever tomorrow may bring.
Shared Intelligence
Our teams work together to form a global perspective, while maintaining the autonomy required to deliver on distinct investment philosophies.
Measured Approach
Our teams diligently apply real-time research, data and analytics across everything we do at AGF, minimizing drastic changes and protecting long-term growth.
Active Accountability
Our teams apply consistent processes designed to deliver repeatable results  where active management truly equals active expectations.
Investment Stewardship
Our commitment to the principles of good stewardship and responsible investment is a positive differentiator for AGF. We believe integrating Environmental, Social and Governance (ESG) issues into our investment decision-making and ownership practices across platforms will help deliver better investment outcomes to our clients.
AGF is a signatory to the United Nations-supported Principles for Responsible Investment (PRI) as a sustaining member of the Responsible Investment Association.
*signatory of