An innovative income product for today's challenging environment
By: AGFiQ Team • March 31, 2020
The low-yield environment, coupled with heightened equity market volatility, presents income-seeking investors with unprecedented challenges. To thrive in these conditions, investors need innovative, outside-the-box products built on the power of original thinking. The AGFiQ Hedged Dividend Income Fund (DIVA), a long/short, alternative exchange-traded fund (ETF), seeks to meet this need by attempting to deliver higher yields with the risk reduction today's investor cannot do without.
The objective of the ETF is to seek performance results that correspond to the price and yield performance, before fees and expenses, of the Indxx Hedged Dividend Income Index. In striving to achieve this objective, the fund attempts to capture the benefits of investing in high-yielding dividend stocks, while hedging out the characteristic risks of exposure to equity markets. DIVA lies at the intersection of three of the most popular investment themes in the market today:
Growth
Capital appreciation over time to keep up with inflation.
Income
Consistent income stream to meet investors' cash flow needs.
Alternative Strategies
These strategies apply different processes in efforts of reducing volatility and decreasing correlation to other asset classes, such as equities and fixed income.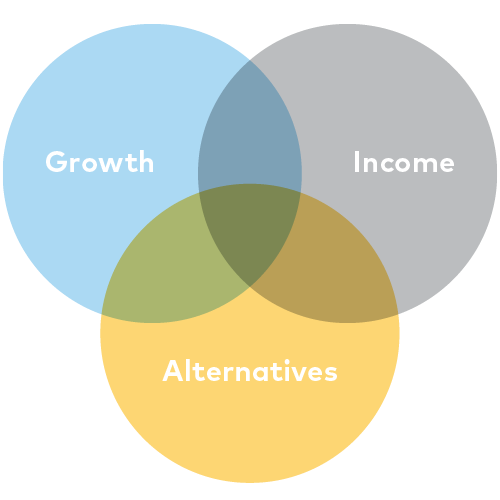 The NYSE-listed ETF tracks the Indxx Hedged Dividend Income Index (IDIVALS), a long/short index that has been live since February 2013. The index's investible universe is the 1,000 largest U.S. equity securities based on market capitalization (subject to a minimum daily trading volume).
The long portion of the index consists of 100 equally weighted positions. To be eligible for inclusion in the long basket, stocks must show consistent or growing dividends over the previous three years, relative to other stocks in their respective sectors. No sector can hold more than a 25% weighting, and industries are capped at 15%. These restrictions help to cap the index's concentrations in utilities stocks, MLPs and REITs.
The result is a basket of quality, consistently high-yielding names.
The short portion of the IDIVALS index hedges out market risk, and does so more efficiently than shorting futures because embedded within futures is the total return, which includes dividend payments. Shorting futures can, therefore, significantly degrade overall yield. By shorting only low- or zero-yielding stocks, DIVA seeks to preserve the dividend yield of the long securities.
Long/short portfolio construction has delivered low correlations and beta to equity and fixed income markets.