Six Thoughts on Politics and Its Potential Impact on Markets
December 6, 2021
|
Six Thoughts on Politics and Its Potential Impact on Markets
AGF's Chief U.S. Policy Strategist on the half-dozen political themes to watch for in 2022.


Hopefully Washington won't be as unstable in 2022 as it was in 2021, which featured riots, Congressional dysfunction, a foreign policy debacle and the emergence of a serious inflation scare.
Anything's possible in this city, with both houses of U.S. Congress nearly evenly divided between the two parties, and the public bitterly partisan on everything from masks to immigration. So what might be in store in the coming year?
1. A Change of Attitudes
The American public seemingly was satisfied with U.S. President Joe Biden and the economy until summer, when the withdrawal from Afghanistan began a public opinion crash for the president. There's already little support for a "wealth tax," Medicare for all, defunding the police, or packing the Supreme Court, but there could be two surprising shifts in attitudes. First, a growing aversion to big government spending, which the public believes is a major contributor to inflation. Support for trillions of dollars in more spending now seems to be fading. And the backing for climate reform may stall as shortages of fossil fuels – coal, oil, and natural gas – affect public attitudes.
2. Joe Biden's Brief Honeymoon
It lasted less than a year, and now his approval ratings have sunk into the Donald Trump neighborhood. Biden has been blamed for everything from illegal immigration to urban crime and faces an election setback in the midterm elections next November. The Republicans are likely to capture the House – and possibly the Senate as well.

3. The Rise of Regulators
Biden has appointed the most radical regulators in recent memory, and it's possible they act aggressively on antitrust policy, energy regulations, financial services oversight, the tech sector, drug manufacturers, etc. As a result, relations between Washington and business may become much more acrimonious.

4. Donald Trump, Still in the Limelight
He's not going away anytime soon. Despite an avalanche of pending court cases, he will dismiss them as "fake news" and most of his supporters will agree. Will he run in 2024? Probably, but an increasingly vocal minority of Republicans – including Liz Cheney and Chris Christie – will begin to speak out against him.
5. Energy – All About Shortages
The 2021 United Nations Climate Change Conference held in Glasgow last month produced some agreements, but how ironic that the biggest energy issue today isn't climate change – it's a shortage of fossil fuels that could worsen in Western Europe and elsewhere this winter. Renewables like wind and solar will gradually make a big difference – as will a more engaged private sector – but the simple fact is that the world needs more natural gas, coal, and oil this winter.

6. Geopolitics in Flux
The good news may be slightly thawed relations between the U.S. and Western Europe, Canada, India and even China; the rhetoric between Beijing and Washington is sill aggressive, but may become more civil even as tariffs remain. The two hot spots may be in central Europe, over immigration and natural gas, as Vladimir Putin stirs the pot. And there's always flaring tensions in the Mideast – for now, it appears to be Iran, a provocateur in the Persian Gulf.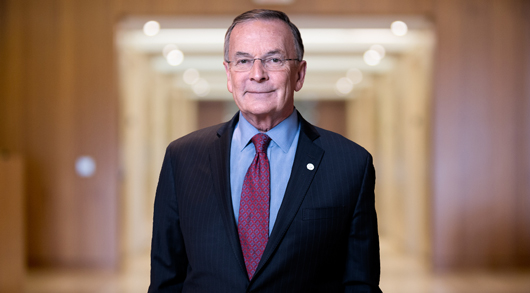 Chief U.S. Policy Strategist
AGF Investments
Chief U.S. Policy Strategist
Greg Valliere joined AGF Investments (AGF) in February 2019 as Chief U.S. Policy Strategist. In this role, he is responsible for providing insight into how U.S. politics are shaping global markets.
He brings a unique perspective to AGF with over three decades of experience analyzing policy and politics providing regular commentary and insight into Washington for financial services and investment management clients globally, including specialized coverage of the Federal Reserve, economic policy and politics. Greg began partnering with AGF in 2017 advising investment management teams on policy and the impact on global markets, providing daily market commentary for financial advisors and participating in numerous client events and roadshows.
Most recently, Greg was the Chief Global Strategist at North Carolina based Horizon Investments, LLC and has 40 years of experience following Washington issues for institutional and retail investors. He is widely quoted in U.S. media and specializes in coverage of the Federal Reserve, tax and spending issues, and politics. Greg is based in Washington, D.C.
The commentaries contained herein are provided as a general source of information based on information available as of December 6, 2021 and are not intended to be comprehensive investment advice applicable to the circumstances of the individual. Every effort has been made to ensure accuracy in these commentaries at the time of publication, however, accuracy cannot be guaranteed. Market conditions may change and AGF Investments accepts no responsibility for individual investment decisions arising from the use or reliance on the information contained here.
The views expressed in this document are those of the author and do not necessarily represent the opinions of AGF, its subsidiaries or any of its affiliated companies, funds or investment strategies.
References to specific securities are presented to illustrate the application of our investment philosophy only and do not represent all of the securities purchased, sold or recommended for the portfolio. It should not be assumed that investments in the securities identified were or will be profitable and should not be considered recommendations by AGF Investments.
AGF Investments is a group of wholly owned subsidiaries of AGF Management Limited, a Canadian reporting issuer. The subsidiaries included in AGF Investments are AGF Investments Inc. (AGFI), AGF Investments America Inc. (AGFA), AGF Investments LLC (AGFUS) and AGF International Advisors Company Limited (AGFIA). AGFA and AGFUS are registered advisors in the U.S. AGFI is registered as a portfolio manager across Canadian securities commissions. AGFIA is regulated by the Central Bank of Ireland and registered with the Australian Securities & Investments Commission. The subsidiaries that form AGF Investments manage a variety of mandates comprised of equity, fixed income and balanced assets.
This document is for use by Canadian accredited investors, European professional investors, U.S. qualified investors or for advisors to support the assessment of investment suitability for investors.
® The "AGF" logo is a registered trademark of AGF Management Limited and used under licence.
RO:1922864