Démarche de placement
Top down, bottom up investment approach.
Capitalisation
All cap
Indice repère
60% MSCI World Energy Index / 40% MSCI World Materials Index
Lancement de la stratégie
April 2000
Les principales raisons d'investir
The Strategy offers high-growth potential by investing in resource and resource-related companies from around the world.
For institutional investors seeking to participate in potential growth opportunities provided by targeted exposure to the resources sectors.
Stratégies
The Global Resources Strategy employs a bottom-up growth investment style that seeks companies with above-average earnings and revenue growth relative to their historical earnings, the industry or overall market.
Philosophie
We believe successful investing in the commodities market is achieved by combining a global analysis of the macroeconomic environment, together with a disciplined fundamental stock selection process, to uncover the world's best natural resource opportunities.
Processus
Our investment process is a continuous cycle that analyzes the macroeconomic environment in order to determine the outlook for the major individual commodities. Within this framework, individual stocks are then selected for the portfolio using in-depth fundamental research.
Fundamental research: The bottom-up element of the investment cycle strives to create a portfolio that is comprised of the companies with the best combination of three key attributes: asset quality, management quality and stock valuation.
Narrowing the eligible universe
A preliminary liquidity and country filter takes an initial 4,000+ universe of resource equities down to approximately 1,000 companies. A continual fundamental assessment process looking for asset quality and strong management capability further narrows the field to approximately 400 names. This process is largely based upon direct meetings with management, drawing upon decades of experience in the resource business.


In-depth fundamental research
Fundamental research provides a formal thesis for potential portfolio candidates. The in-depth research includes a detailed review of a) the management team, b) the quality and growth potential of the assets and reserves, c) competitive positioning, d) the company financials and e) the company's valuation.
Ongoing portfolio review: The team continuously strives to create a portfolio that combines the optimal sector profile with the best quality companies. The portfolio is typically comprised of 70% large- and mid-cap companies, along with 30% smaller, early-stage growth companies.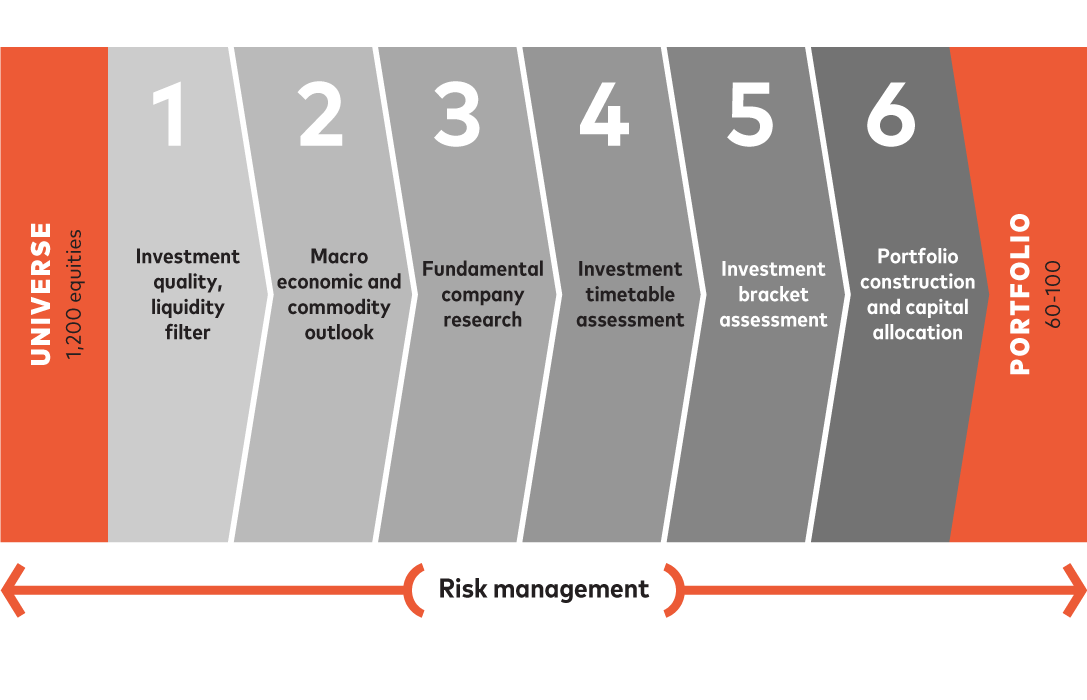 Gestionnaires de portefeuille
Stephen Bonnyman, MBA, CFA
Co-chef, Recherche sur les actions nord-américaines, et gestionnaire de portefeuille¿
Placements AGF Inc.
Title and Position (FRE)
Stephen Bonnyman est co-chef, Recherche sur les actions nord-américaines, et gestionnaire de portefeuille de titres canadiens et mondiaux du secteur des ressources naturelles. En collaboration avec les équipes de recherche d'AGF, il veille à repérer des sociétés spécialisées en ressources naturelles qui possèdent des bilans solides, des structures de coûts avantageuses, des évaluations attrayantes ou une croissance non reconnue. Steve Bonnyman est membre du Comité de répartition de l'actif AGF, formé de gestionnaires de portefeuille chevronnés qui sont chargés de diverses régions et de différentes catégories d'actif. Les membres du comité se réunissent régulièrement pour discuter, de même que pour analyser et évaluer la conjoncture macroéconomique et les marchés de capitaux et pour formuler des recommandations visant une répartition optimale de l'actif.
Il est titulaire d'un B.Sc. en géologie de l'Université McMaster, ainsi que d'une MBA de l'Université Dalhousie, en plus d'être analyste financier agréé (CFA).
Approach or Quote (FRE)
Il s'est joint à l'équipe d'AGF en 2013 et possède plus de 20 ans d'expérience en matière d'achat et de vente de titres du secteur des matériels sur les marchés mondiaux, y compris cinq années en gestion de capitaux institutionnels. Avant de se joindre à AGF, il était directeur général et analyste dans le domaine des titres miniers pour une grande institution financière, où il était responsable de toutes les activités de recherche et d'analyse boursière à l'échelle mondiale. Il a également occupé des postes d'analyste et de gestionnaire de portefeuille auprès de deux importantes sociétés de gestion d'actifs.
Inscrit à titre de gestionnaire de portefeuille à Placements AGF Inc. et AGF Investment America Inc. CFA® (Chartered Financial Analyst®) est une marque de commerce du CFA Institute.
Années d'expérience à AGF
4
Années d'expérience dans le domaine
28