AGF Global Resources Equity Strategy
Approach
Top down, bottom up investment approach.
Cap
All cap
Benchmark
60% MSCI World Energy Index / 40% MSCI World Materials Index
Inception Date
April 2000
Key Reasons to Invest
The Strategy offers high-growth potential by investing in resource and resource-related companies from around the world.
For institutional investors seeking to participate in potential growth opportunities provided by targeted exposure to the resources sectors.
Strategy
The AGF Global Resources Equity Strategy employs a bottom-up growth investment style that seeks companies with above-average earnings and revenue growth relative to their historical earnings, the industry or overall market.
Philosophy
We believe successful investing in the commodities market is achieved by combining a global analysis of the macroeconomic environment, together with a disciplined fundamental stock selection process, to uncover the world's best natural resource opportunities.
Process
Our investment process is a continuous cycle that analyzes the macroeconomic environment in order to determine the outlook for the major individual commodities. Within this framework, individual stocks are then selected for the portfolio using in-depth fundamental research.
Fundamental research: The bottom-up element of the investment cycle strives to create a portfolio that is comprised of the companies with the best combination of three key attributes: asset quality, management quality and stock valuation.
Narrowing the eligible universe
A preliminary liquidity and country filter takes an initial 4,000+ universe of resource equities down to approximately 1,000 companies. A continual fundamental assessment process looking for asset quality and strong management capability further narrows the field to approximately 400 names. This process is largely based upon direct meetings with management, drawing upon decades of experience in the resource business.


In-depth fundamental research
Fundamental research provides a formal thesis for potential portfolio candidates. The in-depth research includes a detailed review of a) the management team, b) the quality and growth potential of the assets and reserves, c) competitive positioning, d) the company financials and e) the company's valuation.
Ongoing portfolio review: The team continuously strives to create a portfolio that combines the optimal sector profile with the best quality companies. The portfolio is typically comprised of 70% large- and mid-cap companies, along with 30% smaller, early-stage growth companies.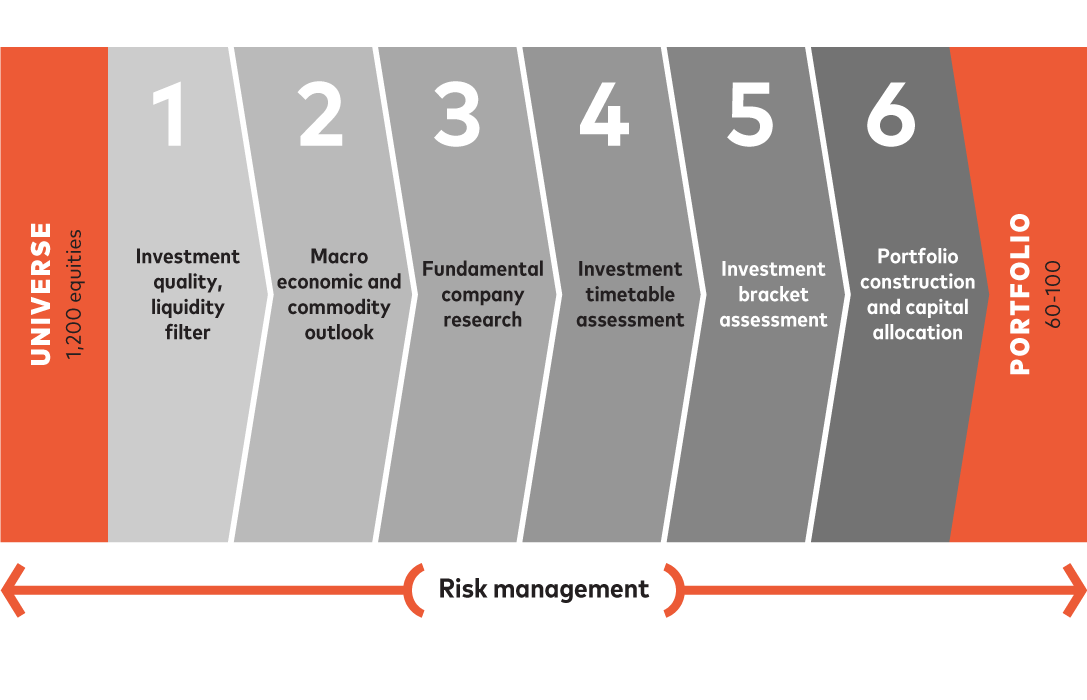 Fund Managers
Stephen Bonnyman, MBA, CFA
Co-Head North American Research and Portfolio Manager
AGF Investments Inc.
Title and Position
Stephen Bonnyman is Co-Head, North American Equity Research and Portfolio Manager of AGF's Canadian and global resources portfolios. Working closely with the AGF research teams, Steve focuses on identifying resource companies with solid balance sheets, advantaged cost structures, attractive valuations or unrecognized growth. Steve is a member of the AGF Asset Allocation Committee (AAC), which is comprised of senior portfolio managers who are responsible for various regions and asset classes. The AAC meets regularly to discuss, analyze and assess the macro-economic environment and capital markets in order to determine optimal asset allocation recommendations.
Steve has a B.Sc. in Geology from McMaster University and an MBA from Dalhousie University and is a CFA charterholder.
Approach or Quote
He joined AGF in 2013 with more than 20 years of buy and sell side experience covering the global materials industry, including five years of institutional money management. Prior to joining AGF, Steve was Managing Director and Mining Analyst at a major financial institution, responsible for global company research coverage and equity market analysis. Prior to that, he was an analyst and portfolio manager at two leading asset management firms.
Registered as a Portfolio Manager under AGF Investments Inc. and AGF Investment America Inc. CFA® and Chartered Financial Analyst® are registered trademarks owned by CFA Institute.
Years with AGF
4
Years in the industry
28