AGF Emerging Markets Equity Fund
Approach
Fundamental, bottom up approach.
Cap
All Cap
Benchmark
MSCI Emerging Markets Index
Inception Date
January 1, 2020
Key Reasons to Invest
For investors seeking exposure to a broad universe of companies that we believe are high quality in emerging market countries
Emerging Market fundamentals are improving at both the company and country level
We believe the asset class currently has attractive valuations and a large discount to the developed markets
Strategy
The Fund seeks long term capital appreciation by investing in equities issued by companies that are economically tied to emerging markets countries. It is actively managed, all cap, style neutral, and utilizes bottom-up security selection combined with a disciplined Country Allocation Framework to select the stocks within the portfolio.
Philosophy
The AGF Emerging Markets Equity Strategy focuses on economic value added (EVA). We believe this will drive long-term returns while controlling risk, and that companies which have historically generated returns in excess of their cost of capital create shareholder value. Our long-term investment approach strives to take advantage of what we believe are short-sighted markets. We believe that markets are short-sighted and the differences between winners and losers become differentiated over time. We analyze existing holdings with a view towards the long term.
Our investment process seeks to reveal emerging market stocks with potentially strong profitability. We expect this to result in a portfolio with sustainable earnings growth prospects not recognized by the market and identifying stocks we believe to be selling at attractive valuations. This drives our disciplined and diversified portfolio construction process.
Process
Our investment process is based on the concept of EVA, which focuses on finding companies that over time will exhibit characteristics such as strong/growing cash flow generation, sales, margins, and/or asset utilization.
Our process is underpinned by fundamental stock selection and aided by our disciplined country allocation framework, with an awareness of the macroeconomic conditions through country analysis. Our emerging markets universe includes the MSCI Emerging Markets Index and Hong Kong, for a total of 27 countries.
The country universe is scored and ranked for valuations, growth/sentiment, and risk. A minimum market cap of US$500 million is applied in the security screening process. The remaining universe is then ranked based on historical and prospective valuation, growth, and sentiment characteristics.
We apply an EVA screen to the resulting universe to uncover companies that have the ability to generate a return on investment that exceeds the company's cost of capital. From there, selected names are reviewed using in-depth fundamental analysis to uncover companies with strong businesses and management, unrecognized growth potential, and attractive valuations. The portfolio manager imposes disciplined controls at the country, sector, company, and portfolio level.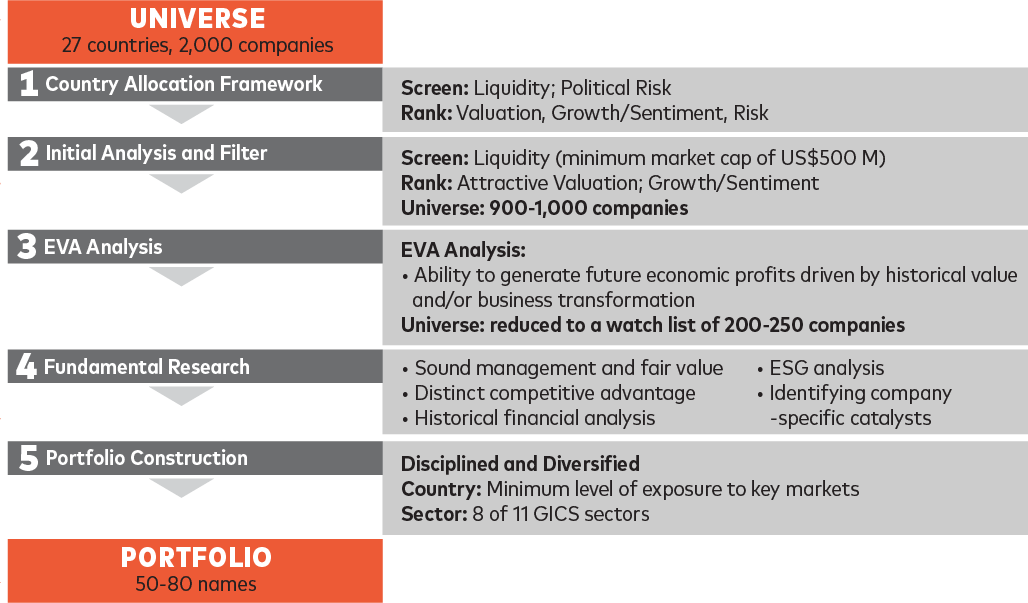 Investing involves risk including loss of principal. Equity securities are volatile and can decline significantly in response to broad market and economic conditions. Investments in foreign securities involve risks that differ from investments in securities of U.S. issuers because of unique political, economic and market conditions. Foreign markets, especially those in less developed economies, are generally more illiquid than U.S. markets. Liquidity risk exists when investments are difficult to purchase or sell. This can reduce the Fund's returns because the Fund or an entity in which it invests may be unable to transact at advantageous times or prices. Emerging or frontier markets involve exposure to economic structures that are generally less diverse and mature. The less developed the market, the riskier the security. Such securities may be less liquid and more volatile. 

Investors should consider the investment objectives, risks, charges and expenses carefully before investing. For a prospectus or summary prospectus with this and other information about the Fund, please call 1-833-AGF-FUND (833-243-3863) or visit our website at www.AGF.com. Read the prospectus or summary prospectus carefully before investing.


Distributor: Foreside Fund Services, LLC 
Fund Managers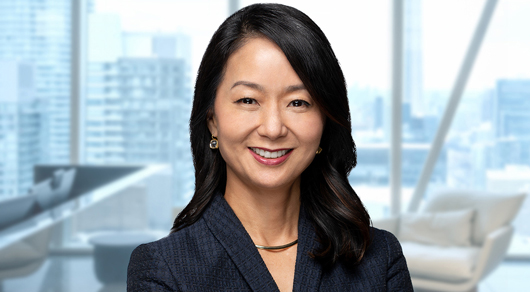 Regina Chi, CFA
Vice-President, Portfolio Manager
AGF Investments
Title and Position
Regina Chi is Vice-President and Portfolio Manager with lead responsibility for AGF Emerging Markets strategies. She has an investment philosophy consistent with AGF's Global Equity Team and looks for quality companies that have long-term sustainable competitive advantages at attractive valuations.
Regina is a CFA charterholder. She received her Bachelor of Arts in Economics and Philosophy from Columbia University. Regina has a working knowledge of Korean and Spanish.
Approach or Quote
Regina brings more than 25 years of international equity experience to this role. She was most recently a partner at a boutique U.S. investment firm, where she served as portfolio manager for the Emerging Markets and International Value disciplines.
Registered as a Portfolio Manager under AGF Investments Inc. and AGF Investment America Inc. CFA® and Chartered Financial Analyst® are registered trademarks owned by CFA Institute.
Years with AGF
3
Years in the industry
26