AGF Fixed Income Plus Strategy
Approach
Core "Plus" Investment Approach
Cap
All cap
Benchmark
FTSE TMX Canada Universe Bond Index
Inception Date
March 1993*
Key Reasons to Invest
For institutional investors seeking lower-risk access to income
Complementary strategy designed to be less interest-rate sensitive due to inclusion of alternative fixed-income instruments
Rigorous fundamental research, independent of sell-side analysis and credit rating agencies.
Alternative fixed income instruments offers the potential for increased yield and total return in current low-yield environment.
Strategy
The AGF Fixed Income Plus Strategy is an actively managed investment-grade fixed-income strategy that focuses on high-quality Canadian government or corporate fixed income securities with a history of steady interest or distribution payouts. Focuses on alternative, income oriented asset classes: allocates to convertible debentures, high-yield bonds and emerging market debt with the goal of decreased interest rate sensitivity.
Philosophy
We believe the key to adding value in fixed income is to leverage our long-tenured expertise in our core competencies to deliver sustainable alpha to our clients. We focus on adding value by strategically allocating across fixed-income categories and currency. We believe our strengths lie in the use of global fixed-income specialists to capture investment opportunities and that our disciplined methodology, using proprietary models and fundamental research, enables us to capture inefficiencies across global fixed-income markets.
Process
The AGF Fixed Income Plus investment process combines a large, high-quality core investment grade bond portfolio with select exposure to additional income-generating asset classes up to a maximum of 30%.
The core portion emphasizes quality while focusing on managing term and duration relative to the benchmark. The core also includes high-quality investment grade credits with attractive yield spreads. The "plus" portion employs alternative income-generating asset classes, such as high-yield bonds, convertible debentures and emerging market debt, to supplement the core.
These asset classes, while providing higher yields and/or return expectations, can also dampen interest rate volatility within the portfolio, as they typically exhibit low correlations with traditional bonds due to their lower interest rate sensitivity. They also provide the potential for capital appreciation, which has rewarded investors in this strategy historically. Top-down decisions are distilled from the Team's macro-economic analysis of the Canadian and global economy. Some of the factors discussed include economic growth, inflation, central bank policy, yields and spreads. This analysis drives the core/"plus" exposure as well as duration, curve, credit and sector allocations. These decisions emphasize relative risk-adjusted return prospects.
The strategy is well-diversified across fixed-income categories and sectors while a risk-controlled framework is integrated within the research and portfolio management process, with a goal of generating favourable risk-return outcomes for our clients. Equity research from the North American Research and Global Equity teams is leveraged to identify opportunities in corporate, convertible and emerging market bonds with strong potential to outperform.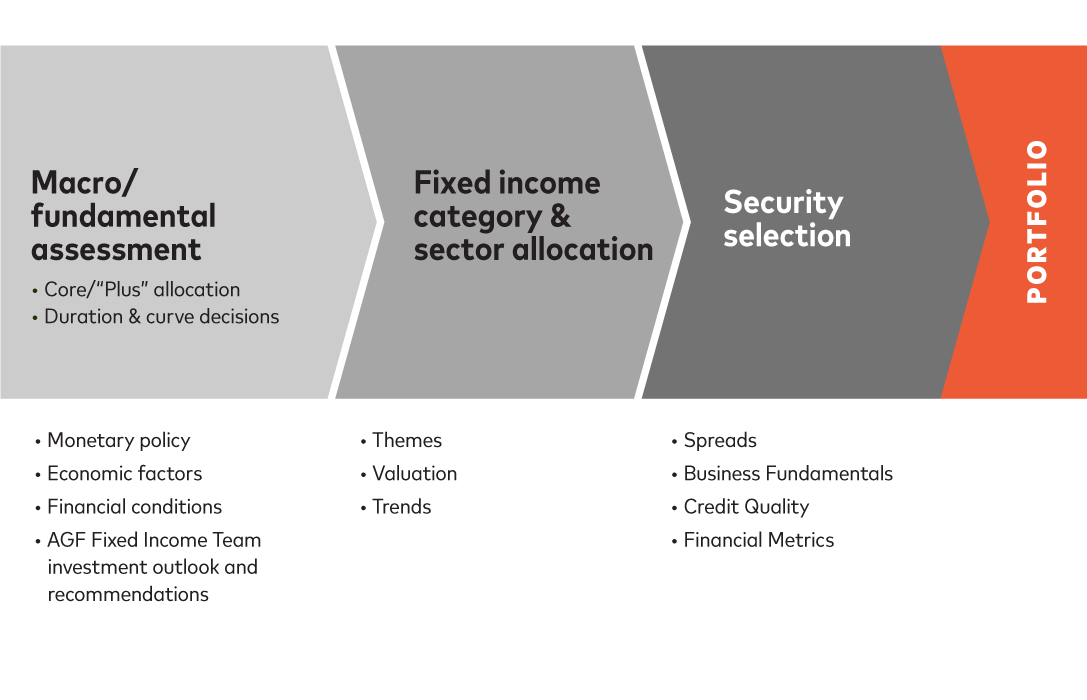 Fund Managers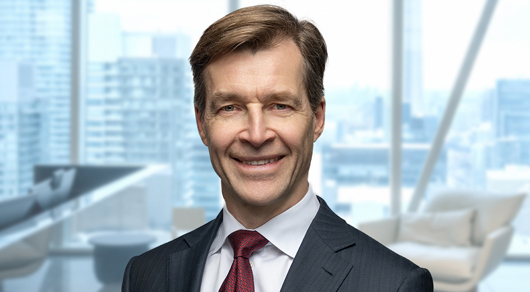 David Stonehouse, MBA, CFA
Vice-President and Portfolio Manager
AGF Investments Inc.
Title and Position
David Stonehouse manages both fixed-income and balanced portfolios and is a member of the AGF Fixed Income Team, which has expertise in all the major fixed-income categories including high yield, investment grade, sovereign bonds and global convertibles, in both emerging and developed markets, as well as global currencies. His rigorous and disciplined investment process is a combination of a top-down approach to duration and asset allocation with a bottom-up approach to security selection.
He received a B.Sc. in Applied Science from Queen's University, an MBA in Finance and Accounting from McMaster University and is a CFA charterholder.
Approach or Quote
David was previously Director, Fixed Income and Portfolio Manager with Acuity Investment Management Inc. AGF Management Ltd. acquired Acuity Funds Ltd. and Acuity Investment Management Inc. in February 2011. Prior to joining Acuity, David was a senior analyst specializing in Canadian equities at a major Canadian pension plan and worked in the telecommunications industry specializing in financial analysis.
Registered as a Portfolio Manager under AGF Investments Inc. CFA® and Chartered Financial Analyst® are registered trademarks owned by CFA Institute.
Years with AGF
6
Years in the industry
21