AGF U.S. Large Cap Growth Equity Strategy
Approach
Fundamental, bottom up, macro consideration.
Cap
Large Cap
Benchmark
S&P 500 Index
Inception Date
June 1957
Key Reasons to Invest
The Strategy offers concentrated exposure to equities in the United States while focusing on innovation as a key metric to identify companies that exhibit exceptional product development and corporate leadership
For investors looking for a complement to existing U.S. or Global Equity core portfolio
For institutional investors looking to participate in the growth potential of U.S. equities.
Strategy
A bottom-up growth investment style that looks for companies with above-average earnings and revenue growth relative to their historical earnings, the industry or overall market.
Philosophy
The team's objective is to capture leading growth companies in every investment cycle. The team uses an opportunistic bottom-up approach with front-end quantitative screens and a catalyst identification component to identify high-quality, large-cap U.S. growth companies that can successfully generate sustainable above-average growth for revenues, earnings and cash flow with a strong sell discipline when analysis is unfavorable.
We believe market leadership is determined by innovation, the macro-environment and thematic trends, therefore we invest in companies benefitting from new products or services and/or favorable addressable end markets. 

We believe that equity market leadership changes from cycle to cycle as companies out-innovate each other and with the maturity of the economic cycle therefore we maintain objectivity by ensuring the investment thesis remains intact everyday with a willingness to purchase every stock held in the portfolio.

We also believe that stock prices reflect consensus estimates, therefore we identify catalysts yet to be incorporated into forecasts.
Process
Our universe contains 1,900+ U.S. companies with market capitalizations of US$2 billion and above. First, quantitative screens narrow the investible universe to 350+ stocks. Next, qualitative screens continue to narrow the investible universe to 200+ stocks. A catalyst identification further reduces the universe to 100+ companies, singling out potential purchase candidates. 

In order to determine the optimal growth candidates, in-depth analysis and due diligence is performed for each company. This step confirms that these companies exhibit the potential for sustained growth as well as continued innovation in their products and services. 

The resulting portfolio consists of 30-50 companies that exhibit strong growth characteristics. The typical range for position weights is 1-8%. There will be representation in at least 8 of the 11 GICS sectors comprising the U.S. equity market, as represented by the S&P 500 Index. 

Our team's utilization of a bottom-up investment process results in a high conviction portfolio of 30-50 stocks that exhibit above-average growth characteristics.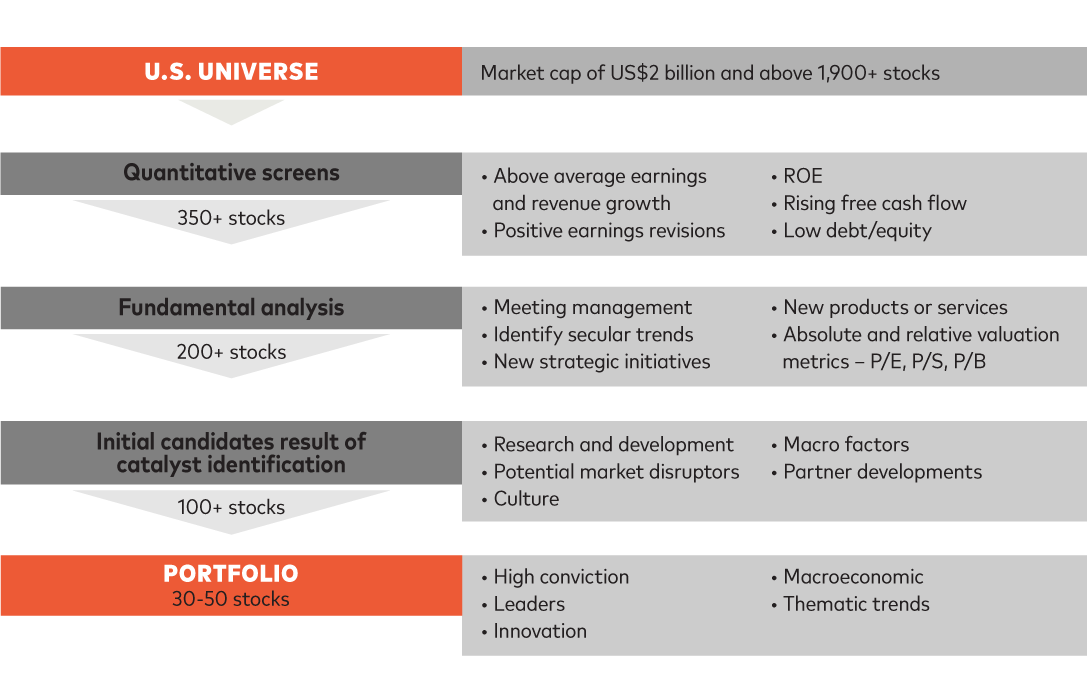 Fund Managers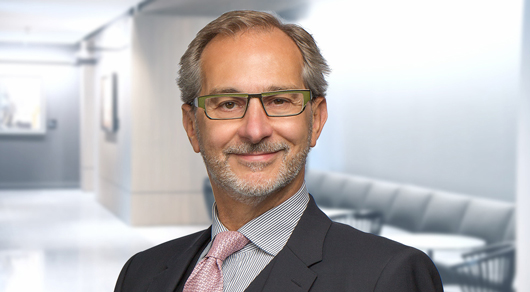 Tony Genua
Senior Vice-President and Portfolio Manager
AGF Investments Inc.
Title and Position
Tony Genua has been Portfolio Manager of AGF's U.S. growth strategies since he joined AGF in 2005. Throughout his career in portfolio management, Tony has remained committed to his proven investment strategy that identifies leading growth companies in every cycle. Tony is also a member of the AGF Asset Allocation Committee (AAC), which is comprised of senior portfolio managers who are responsible for various regions and asset classes. The AAC meets regularly to discuss, analyze and assess the macro-economic environment and capital markets in order to determine optimal asset allocation recommendations.
Tony earned his BA in Economics from the University of Western Ontario.
Approach or Quote
Tony's portfolio management experience includes retail mutual fund investments, sub-advisory platforms and institutional portfolios. Tony's direct experience as a portfolio manager is complemented by the three years he spent as a market strategist on Wall Street.
Registered as a Portfolio Manager under AGF Investments Inc. and AGF Investment America Inc.
Years with AGF
15
Years in the industry
42
60+
years old - the original AGF fund - and the company's namesake
40
years - Tony Genua's industry experience
16
members on North American Equity Team
AGF Institutional Website Agreement
Our website uses cookies to help you get the best experience. Please Accept or click Edit to control your settings.