AGF Emerging Markets Equity Strategy
Approach
Fundamental, bottom-up investment approach.
Cap
All cap
Benchmark
MSCI Emerging Markets Index
Inception Date
June 2003
Key Reasons to Invest
For investors seeking exposure to a broad universe of high quality companies in emerging market countries
Emerging Market fundamentals are improving at both the company and country level
The asset class currently has attractive valuations and a large discount to the developed markets
Strategy
The objective of the AGF Emerging Markets Equity Strategy is to outperform the MSCI Emerging Markets Index by 200 to 300 basis points over rolling three- to five-year periods. The strategy is actively managed, all cap, style neutral, and utilizes bottom-up security selection combined with a disciplined Country Allocation Framework to select the stocks within the portfolio.
Philosophy
We believe the market at times fails to recognize the impact of a company's economic profitability on its long-term share price performance. As such, we focus on high-quality companies with strong economic profitability, attractive valuations and fundamental catalysts, that will benefit from multiple expansion and earnings growth.

We believe country stock markets are often mispriced based on several factors. Thus, we employ a disciplined Country Allocation Framework (CAF) to identify and exploit these opportunities.

We believe the market's short-term focus leads to the mispricing of stocks. Our long-term approach allows us to arbitrage market expectations relative to our differentiated perspective, with the differences between winners and losers being amplified over time.

We believe that considering ESG factors can help uncover investment opportunities and reduce portfolio risk. Additionally, ESG analysis is most impactful when fully integrated within the fundamental investment research process.
Process
Our investment process is based on the concept of identifying the key investment drivers of a company through economic value added (EVA). We believe companies that effectively deploy capital and consistently earn a rate of return in excess of their cost of capital have the ability to create long-term, positive economic value for shareholders.
We also emphasize valuation and fundamental catalysts to lead us to high-quality, mispriced stocks that have the potential to benefit from multiple expansion and earnings growth.
Our process is underpinned by fundamental stock selection and aided by our disciplined CAF, which uses a combination of attractive valuation, low risk characteristics and favourable growth/sentiment factors. Companies are screened based on valuation, growth and sentiment characteristics, which results in a narrowed universe of 900 to 1,000 companies. We apply an EVA screen to further reduce the universe to a watch-list of 200 to 250 companies. Following these preliminary steps, a rigorous analysis is conducted in order to identify the sustainability of a company's EVA, as well as the identification of fundamental catalysts. Analysts also incorporate financially material ESG risks and opportunities in their investment thesis and valuation framework.
During portfolio construction, we seek to further achieve consistent excess returns through the active consideration of intra-sector and intra-country diversification, position sizing and natural hedges, unless we are being paid to do otherwise. Our central tenet is we take risk when we are paid to.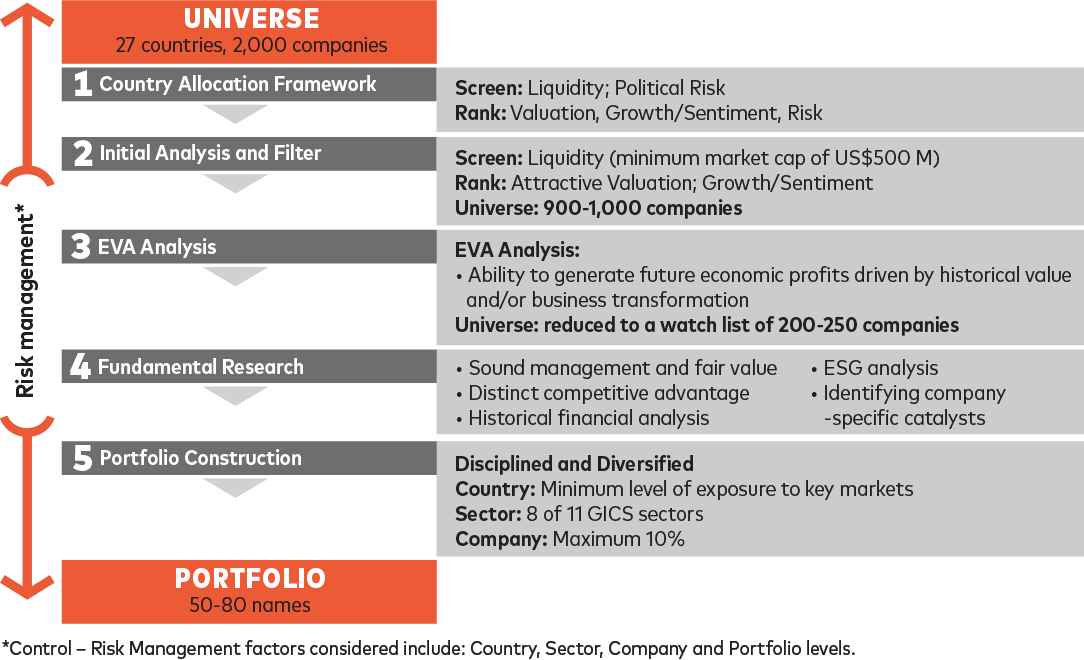 Fund Managers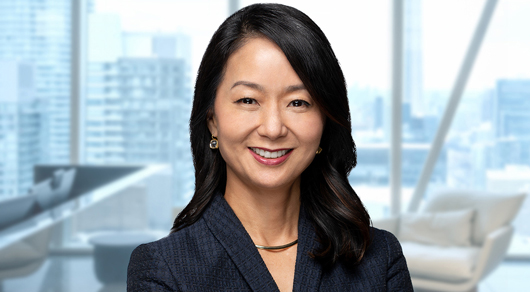 Regina Chi, CFA
Vice-President, Portfolio Manager
AGF Investments
Title and Position
Regina Chi is Vice-President and Portfolio Manager with lead responsibility for AGF Emerging Markets strategies. She has an investment philosophy consistent with AGF's Global Equity Team and looks for quality companies that have long-term sustainable competitive advantages at attractive valuations.
Regina is a CFA charterholder. She received her Bachelor of Arts in Economics and Philosophy from Columbia University. Regina has a working knowledge of Korean and Spanish.
Approach or Quote
Regina brings 26 years of international equity experience to this role. She was most recently a partner at DePrince, Race & Zollo Inc. where she was portfolio manager for the Emerging Markets and International Value disciplines. She was also head of portfolio management and research as they related to Emerging Markets, Global, International and International Small Cap strategies. Prior to this role, she held senior investment management roles at Oppenheimer Capital, Federated Investors and Clay Finlay Inc.
Registered as a Portfolio Manager under AGF Investments Inc. and AGF Investment America Inc. CFA® and Chartered Financial Analyst® are registered trademarks owned by CFA Institute.
Years with AGF
3
Years in the industry
26