May 20, 2020
|
Strategy Spotlight: Finding Emerging Market Returns as the Economic Cycle Turns
5 min read
Uncharted Waters
The longest running bull market in history has now ended, with the spread of coronavirus (COVID-19) and subsequent containment measures significantly curtailing global economic activity. The resulting global downturn was not foreseen by most market participants and markets are likely to be highly volatile for the foreseeable future.
Against this backdrop, broad emerging market indexes have struggled, as have equity markets across the world. But the crisis has also highlighted the high degree of variability between emerging market economies, with certain countries such as Singapore and South Korea conducting an effective response, and other countries such as Brazil and the Philippines struggling to mitigate its impact.
This variability means simply buying a broad EM index or focusing on certain high-growth markets may not be sufficient for investors seeking to generate outperformance. Emerging markets are more fragmented than ever, as highlighted by the disparity in returns between individual countries in recent years.
Five year performance of select EM countries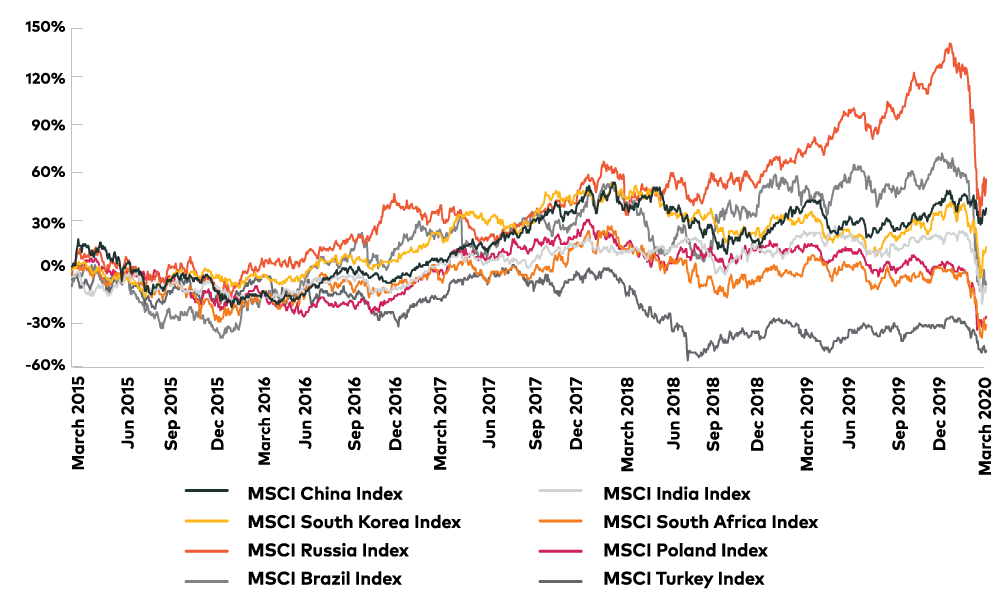 Source: Bloomberg and AGF Investment Operations, as of March 31, 2020
The Importance of an Active Country Framework
The rules which apply in developed markets do not always apply in EM. Political developments, how well investable equities reflect the real economy, regulatory differences and other factors can create idiosyncratic investing environments leading to disparate returns between markets. The economic recovery from the shock of COVID-19 will be no different.
The bulk of outperformance in emerging markets will continue to come from company-specific, fundamental factors driving stock selection. However, investors looking to find alpha in emerging markets in the coming months should consider employing a strong country allocation framework, focused on identifying attractive country stock markets, alongside traditional fundamental analysis of stocks.
Country selection can account for a quarter of returns and can be a significant factor in any emerging market strategy, playing a pivotal role in generating alpha.
The AGF Emerging Markets Equity Strategy
The AGF Emerging Markets Equity Strategy employs a multi-factor country allocation framework, incorporating time-tested valuation, growth/momentum and risk measures. This can help investors to find opportunities throughout market cycles, and exploit the inefficiency embedded in emerging markets.
This disciplined country allocation framework provides a distinct source of alpha generation, making up 20-25% of the strategy's relative outperformance, helping to deliver consistent risk adjusted returns.
Learn more about the AGF Emerging Markets Equity Strategy
The commentaries contained herein are provided as a general source of information based on information available as of May 12, 2020 and should not be considered as investment advice or an offer or solicitations to buy and/or sell securities. Every effort has been made to ensure accuracy in these commentaries at the time of publication, however, accuracy cannot be guaranteed. Investors are expected to obtain professional investment advice.
AGF Investments is a group of wholly owned subsidiaries of AGF and includes AGF Investments Inc., AGF Investments America Inc., AGF Investments LLC, AGF Asset Management (Asia) Limited and AGF International Advisors Company Limited. The term AGF Investments m ay refer to one or more of the direct or indirect subsidiaries of AGF or to all of them jointly. This term is used for convenience and does not precisely describe any of the separate companies, each of which manages its own affairs.
™ The 'AGF' logo is a trademark of AGF Management Limited and used under licence.
Finding Alpha
Where to Look for Returns?
Learn More