AGFiQ Overview
By: AGFiQ Asset Management • August 27, 2018
AGFiQ is a quantitative investment platform powered by an intellectually diverse, multi-disciplined team of investment professionals. AGFiQ offers asset management expertise in rules-based, factor-driven alternative and traditional investment strategies across a variety of risk and return objectives.
Philosophy and Approach
AGFiQ's quantitative philosophy and approach is based on the belief that outcomes can be improved by assessing and targeting the factors that drive market returns. Given this philosophy, the team's objective is to provide better risk-adjusted returns through our construction of innovative investment portfolios. A disciplined, transparent and repeatable1 investment process guided by proprietary factor and risk models allows for intelligent and informed allocations in order to achieve investment objectives.
Our Expertise
Our expertise is in rules-based, factor-driven traditional and alternative investment solutions. The AGFiQ team manages factor-based strategies for a broad range of institutional investors, as well as acting as an Investment Advisor to a number of multi-factor ETFs and mutual funds. Within the team, there is turnkey operational expertise and the infrastructure available to manage mandates spanning across asset classes and vehicles. AGFiQ are also experienced ETF Strategists, with Managed Portfolios built on proprietary factor models and implemented across asset classes.
Investment Team
The AGFiQ investment team consists of 18 investment professionals focused on factor investing.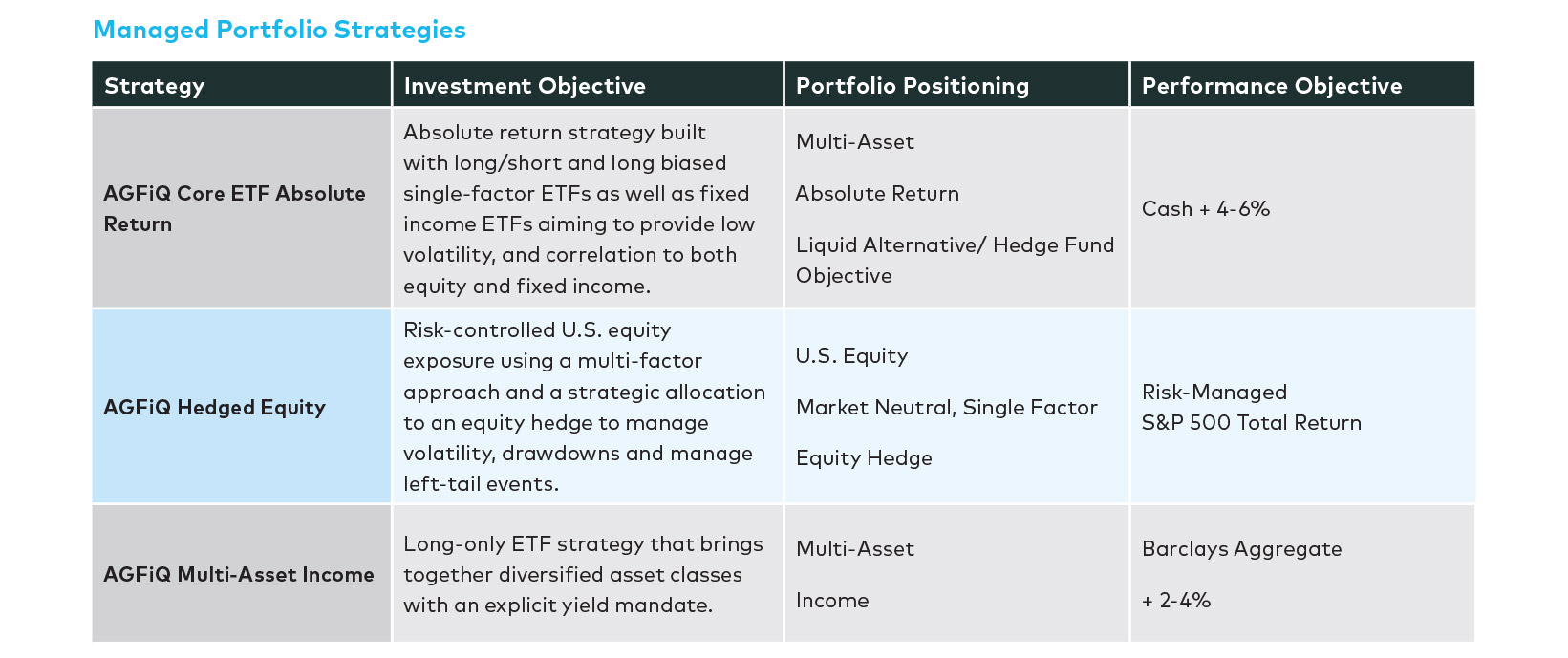 Customization Expertise
AGFiQ prides itself on client-centric discussions around strategy construction in an effort to deliver innovative solutions tailored to client objectives. Topics include, but are not limited to, factor exposures, desired tracking error, constraints, such as turnover, sector/industry, size and security, optimized risk modelling, rebalance frequency and ESG considerations.
For more information about AGFiQ, including our full suite of investment solutions for institutional investors, please visit AGFiQ.com or contact your AGF relationship manager.
(1) Refers only to the investment selection process and not to outcomes or results.
(2) Holders in fields spanning Astrophysics, Computer Science, Finance and Economics.
AGFiQ Asset Management (AGFiQ) is a collaboration of investment professionals from Highstreet Asset Management Inc. (HSAM), a Canadian registered portfolio manager and FFCM, LLC (FFCM), a U.S. registered adviser. This collaboration makes up the quantitative investment team.
This document may not be reproduced (in whole or part), transmitted or otherwise made available to any other party without the prior written consent of AGF Investments Inc., FFCM, LLC and Highstreet Asset Management Inc.
The commentaries contained herein are provided as a general source of information based on information available as of August 10, 2018 and should not be considered as personal investment advice or an offer or solicitation to buy and / or sell securities. Every effort has been made to ensure accuracy in these commentaries at the time of publication, however accuracy cannot be guaranteed. Market conditions may change and the manager accepts no responsibility for individual investment decisions arising from the use or reliance on the information contained herein.
This document is for use by qualified investors only.
Publication date: August 27, 2018