Managing Volatility
Strategies and insights to help manage through market uncertainty
Volatility is inevitable, and its effects can be broadly felt by investors. Monetary or fiscal policy changes, economic uncertainty and geopolitical issues can create a lack of confidence in markets that impact investor behavior and psychology, leading to sentiment-driven reactions.
When investors experience spikes in market volatility, it helps to know what may be the cause of these fluctuations and ways to navigate through them.
Investors can be their own worst enemy
Past performance may not be a guarantee of future results, but emotions do tend to creep in when markets are volatile. A bias of loss aversion can sway some investors to want to cash out, but if they have been invested over the long-term, cashing out could lead to a loss over the long term.
There's also the opportunity cost to consider. Staying the course over the long term has proven to be the better option, historically.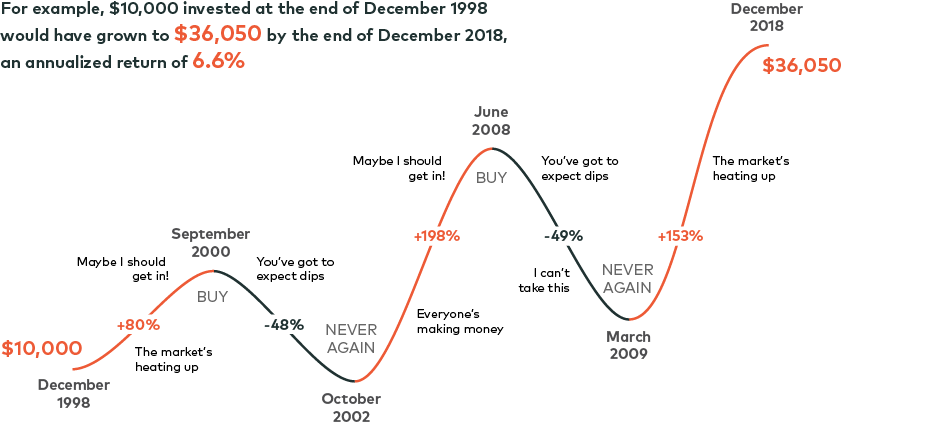 This information is for illustrative purposes only and is not meant to provide investment advice. You cannot directly invest in an index. Past returns are not indicative of future results. Annualized return for S&P/TSX Composite Total Return Index. All values are in Canadian dollars. Source: Bloomberg, Morningstar Direct Data, and AGF Investments Inc. S&P/TSX Composite Total Return Index data from December 1, 1998 to December 31, 2018. 
An investor's emotionally-driven reaction to volatility in the short term can have dire consequences to their long-term investment objectives. Trying to time the market hasn't panned out well for the majority of investors. In most cases, a long-term buy and hold strategy can provide higher real returns.

For illustrative purposes only. All values are in Canadian dollars. You cannot invest directly into an index. Source: IFIC Primary View and Morningstar Research Inc., as of March 31, 2019.
The commentaries contained herein are provided as a general source of information based on information available as of July 4, 2019 and should not be considered as investment advice or an offer or solicitations to buy and/or sell securities. Every effort has been made to ensure accuracy in these commentaries at the time of publication however, accuracy cannot be guaranteed. Market conditions may change and the Portfolio Manager accepts no responsibility for individual investment decisions arising from the use or reliance on the information contained herein. Investors are expected to obtain professional investment advice.
Commissions, trailing commissions, management fees and expenses all may be associated with mutual fund investments. Please read the prospectus before investing. The indicated rates of return are the historical annual compounded total returns including changes in share and/or unit value and reinvestment of all dividends and/or distributions and do not take into account sales, redemption, distribution or optional charges or income taxes payable by any securityholder that would have reduced returns. Mutual funds are not guaranteed; their values change frequently and past performance may not be repeated.