Strategies for Volatility
A disciplined approach to market uncertainty
Staying the course has shown to be the better option for long-term investors during periods of volatility, but after a loss, it does take a greater gain to return to your original value. We have strategies to help investors manage through volatility, from a suite of ETFs with downside protection, to strategies that provide diversification and uncorrelated returns through global markets, and managed solutions that potentially help mitigate overall portfolio risk.
1. It's all about perspective
When faced with volatility, fear can come into play quickly for many investors. We've seen bouts of volatility with increased media coverage in real-time, which can inadvertently create a lot of noise for investors.
Staying the course through bouts of market turmoil has historically shown to be the better strategy for returns over time.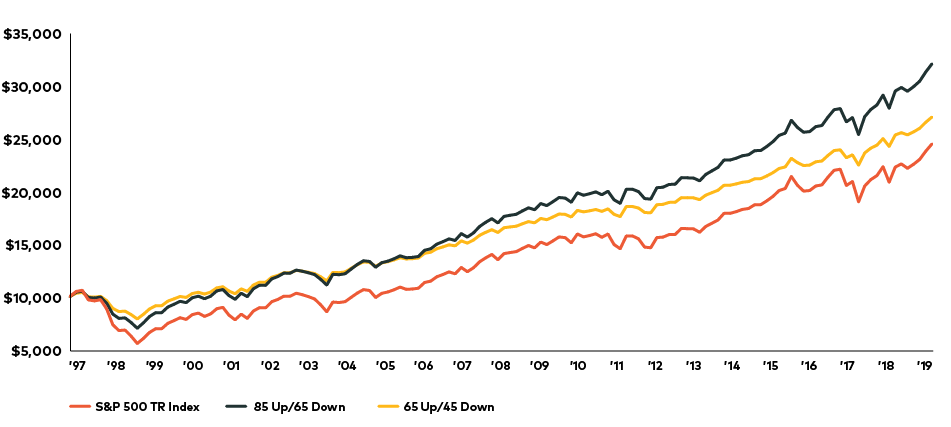 For Illustrative purposes only. All values are in Canadian dollars. You cannot invest directly into an index. Source: AGF Investment Operations, as of March 31, 2019. The S&P 500 Index (CAD) is used to model the outcome of up/down capture of the monthly index returns.
2. Global diversification
We've touted the benefits of going global before. Seeking out broad, global diversification can help mitigate overall portfolio risk and ensure an investor isn't over-exposed to a particular region.
Investors can tend to retreat in the face of uncertainty but it may be more beneficial to explore new growth opportunities that exist around the world and beyond domestic borders.
Our global strategies help provide portfolio diversification with a goal of minimizing risk.  
For illustrative purposes only, you cannot invest directly in an index. Source: AGF Investments Inc., December 2018. Calendar-year returns in Canadian dollars. Composition of the balanced portfolio includes: Cdn. Stocks represented by S&P/TSX Composite Total Return Index 15%; Cdn. Bonds by FTSE Canada Universe Bond Index 10%; Global Stocks by MSCI World Index (C$) 45%; Global Bonds by Bloomberg Barclays Global Aggregate Bond Index (C$) 30%; U.S. Stocks by S&P 500 Composite Total Return Index (C$) 0%; Int'l Stocks by MSCI EAFE Index (C$) 0%. The information contained herein is intended to provide you with general information related to investment alternatives and strategies and is not intended to be comprehensive investment advice applicable to the circumstances of specific investors. We strongly recommend consulting with a professional advisor and tax advisor prior to making investment decisions.
3. Managed solutions
Active risk management is a key component to staying invested during volatility – we know you can't eliminate volatility completely, but you can recommend managed solutions designed to reduce its impact.
Consider a more hands-off approach with a professionally-managed solution that provides diversification and various investment styles within a single ticket.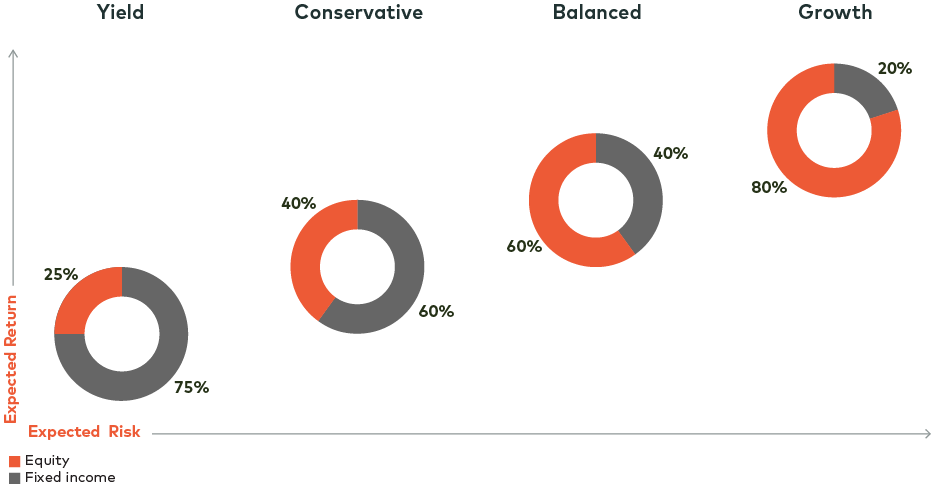 The commentaries contained herein are provided as a general source of information based on information available as of July 4, 2019 and should not be considered as investment advice or an offer or solicitations to buy and/or sell securities. Every effort has been made to ensure accuracy in these commentaries at the time of publication however, accuracy cannot be guaranteed. Market conditions may change and the Portfolio Manager accepts no responsibility for individual investment decisions arising from the use or reliance on the information contained herein. Investors are expected to obtain professional investment advice.
Commissions, trailing commissions, management fees and expenses all may be associated with mutual fund investments. Please read the prospectus before investing. The indicated rates of return are the historical annual compounded total returns including changes in share and/or unit value and reinvestment of all dividends and/or distributions and do not take into account sales, redemption, distribution or optional charges or income taxes payable by any securityholder that would have reduced returns. Mutual funds are not guaranteed; their values change frequently and past performance may not be repeated.