Strategies for Volatility
A disciplined approach to market uncertainty
Staying the course has shown to be the better option for long-term investors during periods of volatility, but after a loss, it does take a greater gain to return to your original value. We have strategies to help investors manage through volatility.
Alternative Investing
Due to the asymmetric nature of investment returns, investors who use alternatives to help minimize potential losses in the short term could end up having a much easier time outperforming in long run.

Take for example, a portfolio that loses 50% in value, a rare occurrence perhaps, but one that many investors experienced during the financial crisis and dot.com bust. It would need to gain 100% in a subsequent rally just to break even. Now consider a portfolio that loses 40%. It only needs to return 67% to get back to square one, while a portfolio that falls 30% requires an even smaller subsequent gain of 43%.

That is why a diversified portfolio that includes a variety of asset classes and strategies for minimizing losses is so important. It has the potential to balance risks with opportunities for return, while offering the possibility of a smoother, more favourable experience that can help overcome the emotional highs and lows of being an investor.
Source: AGF Investments Inc. Illustrations are for example purposes only.
Global Investing
Seeking out diversification and uncorrelated returns through global markets can help mitigate overall portfolio risk and ensure an investor isn't over-exposed to a particular region. Investors can tend to retreat in the face of uncertainty, but it may be more beneficial to explore new growth opportunities that exist around the world and beyond domestic borders.

Diversification across various countries can be an optimal way to reduce risk and improve overall performance, as elements that drive the performance of one market may not for another.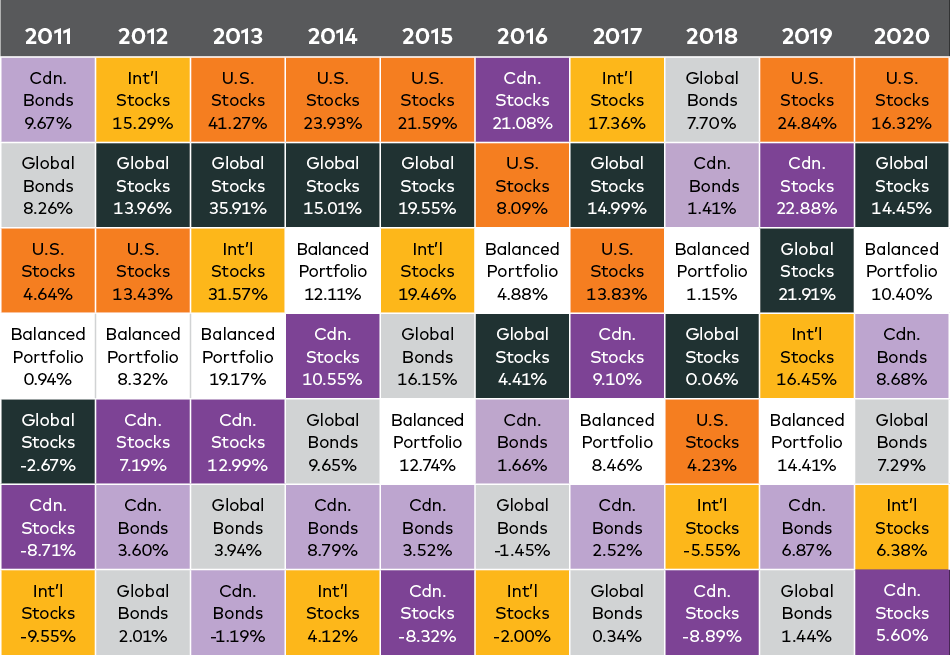 Source: AGF Investments Inc., December 31 2020. Canadian Stocks represented by S&P/TSX Composite Total Return Index, U.S. Stocks – S&P 500 Total Return Index (C$), International Stocks – MSCI EAFE Index (C$), Global Stocks – MSCI World Index (C$), Canadian Bonds – FTSE Canada Universe Bond Index, Global Bonds – Barclays Global Aggregate Bond Index (C$). Balanced Portfolio made up of 15% Cdn. Stocks / 45% Global Stocks / 10% Cdn. Bonds / 30% Global Bonds. The information provided is for illustrative purposes only and is not meant to provide investment advice. You cannot invest directly in an index. Calendar-year returns in Canadian dollars.
Managed Solutions
New paradigms bring changes to the market environment and increase uncertainty. Canadians are exposed to these trends, regardless of where they invest. The key is to invest with professionals who possess the global experience needed to understand these developments and adjust accordingly.

Considering a more hands-off approach with a professionally managed solution provides expertise and oversight, multilayered diversification and active risk management designed to lessen volatility and deliver consistent results.

Active risk management is a key component to staying invested during volatility – we know you can't eliminate volatility completely, but actively managed solutions are designed to reduce its impact.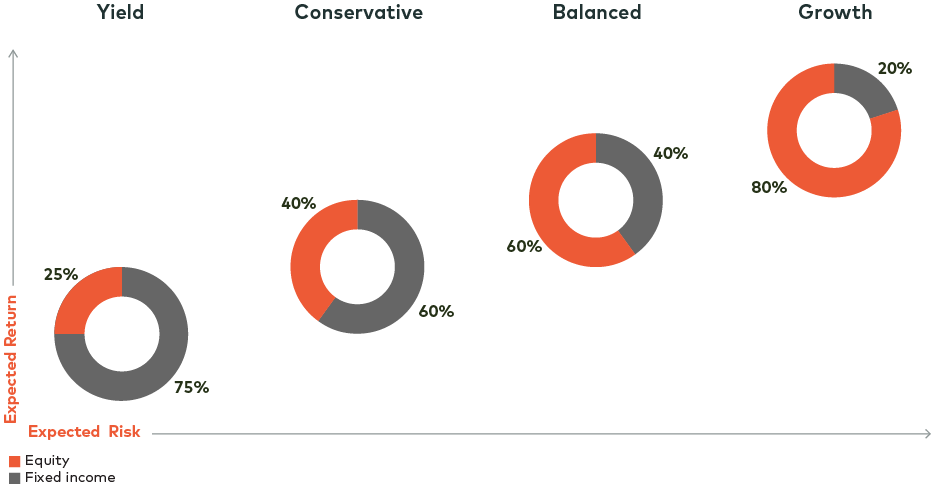 Illustrations are for example purposes only.
The commentaries contained herein are provided as a general source of information based on information available as of March 16, 2020 and should not be considered as investment advice or an offer or solicitations to buy and/or sell securities. Every effort has been made to ensure accuracy in these commentaries at the time of publication however, accuracy cannot be guaranteed. Market conditions may change and the Portfolio Manager accepts no responsibility for individual investment decisions arising from the use or reliance on the information contained herein. Investors are expected to obtain professional investment advice.
Commissions, trailing commissions, management fees and expenses all may be associated with mutual fund investments. Please read the prospectus before investing. The indicated rates of return are the historical annual compounded total returns including changes in share and/or unit value and reinvestment of all dividends and/or distributions and do not take into account sales, redemption, distribution or optional charges or income taxes payable by any securityholder that would have reduced returns. Mutual funds are not guaranteed; their values change frequently and past performance may not be repeated.
©2020 Morningstar. All Rights Reserved. The information, data, analyses and opinions contained herein (1) include the confidential and proprietary information of Morningstar, (2) may include, or be derived from, account information provided by your financial advisor which cannot be verified by Morningstar, (3) may not be copied or redistributed, (4) do not constitute investment advice offered by Morningstar, (5) are provided solely for informational purposes and therefore are not an offer to buy or sell a security, and (6) are not warranted to be correct, complete or accurate. Except as otherwise required by law, Morningstar shall not be responsible for any trading decisions, damages or other losses resulting from, or related to, this information, data, analyses or opinions or their use. This report is supplemental sales literature. If applicable it must be preceded or accompanied by a prospectus, or equivalent, and disclosure statement.