AGFiQ US Long/Short Dividend Income CAD-Hedged Strategy
By: AGFiQ • October 7, 2019
Download
An Innovative Income Product for Today's Challenging Environment.
Aims to provide equity dividends with a bond-like risk profile by taking long positions in companies that have stable, increasing or high current dividends, and shorting those with no or low dividends.
Key Reasons to Invest


Alternative source of yield
The strategy's innovative long/short structure has the potential to dramatically cut volatility, reducing the potential for a large drawdown while maintaining focus on dividend producing securities for added yield.


Low correlation
Portfolio construction methodology attempts to reduce volatility and generally exhibits lower correlation to traditional asset classes, such as equities and fixed income


Innovation for today's environment
By combining high yields, lower volatility and the advantages of the strategy's alternative construction, investors stand to benefit from the higher yields of dividend stocks with potential to protect against the volatility of equity markets.
The Strategy Lives at the Intersection of Three Key Investment Themes: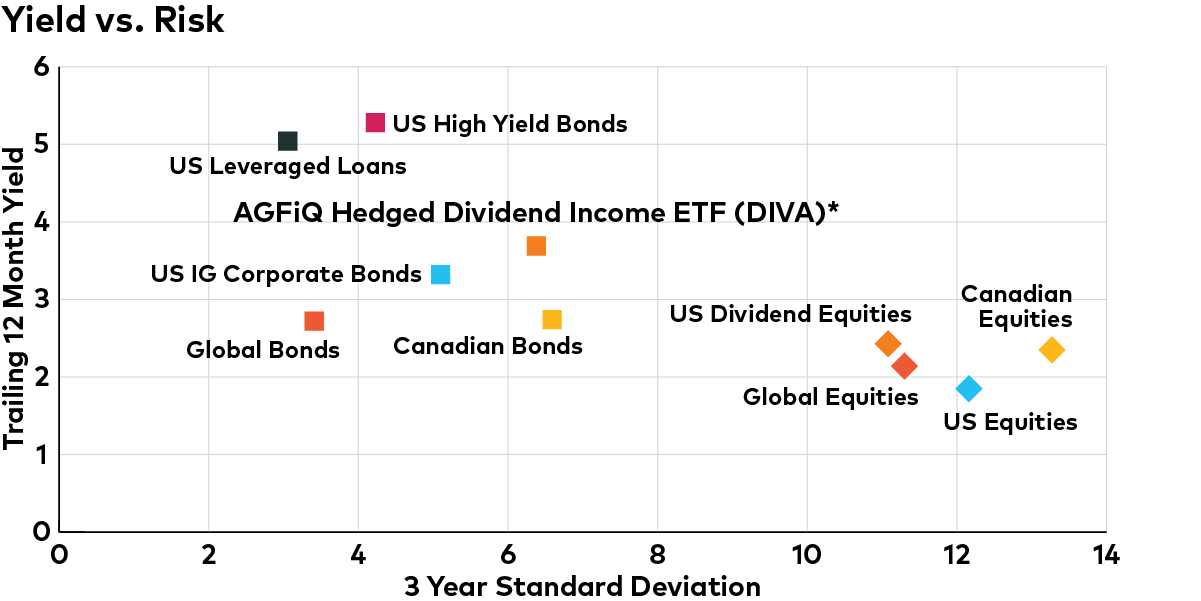 Fund Characterstics
| SUITABLE FOR | INDEX | TICKER | RISK PROFILE |
| --- | --- | --- | --- |
| Investors seeking income with a strategic or tactical hedge for equity portfolios. | INDXX Hedged Dividend Income Currency-Hedged CAD Index | QUDV | |
 Also available as a mutual fund
Fund Codes
MF
F
V
FE
DSC
LL
Fund
CA
4093
4193
4293
5037
–
US
4094
4194
4294
5137
–
Series T
CA
2123
2223
2323
–
–
Series V
CA
3040
3140
3240
–
2525
Commissions, trailing commissions, management fees and expenses all may be associated with ETFs and mutual fund investments. Please read the prospectus before investing. Mutual funds are not guaranteed, their values change frequently and past performance may not be repeated.
This document may not be reproduced (in whole or part), transmitted or otherwise made available to any other party without the prior written consent of AGF Investments Inc., and AGF Investments, LLC.
The information contained herein was provided by AGFiQ. and intends to provide you with information related to the strategies at a point in time. It is not intended to be investment advice applicable to any specific circumstances and should not be construed as investment advice. Market conditions may change impacting the composition of a portfolio. AGF Investments, LLC, AGF Investments and Highstreet Asset Management Inc. assume no responsibility for any investment decisions made based on the information provided herein. Certain data presented is hypothetical in nature and does not represent actual investments.
AGFiQ ETFs are ETFs offered and managed by AGF Investments Inc. AGFiQ ETFs are listed and traded on organized Canadian exchanges and may only be bought and sold through licensed dealers.There is no guarantee that the ETFs will achieve their stated objectives as there is risk involved in investing in ETFs, which are outlined in their relevant prospectus. Before investing, you should carefully consider each ETF's investment objectives, risks, charges and expenses. Commissions, management fees and expenses all may be associated with investing in AGFiQ ETFs. The ETFs are not guaranteed, their values change frequently and past performance may not be repeated. Please read the prospectus carefully before you invest. A copy is available on AGFiQ.com.
A decision to invest in any such asset should not be made in reliance on any information herein. Indexes cannot be invested in directly. Inclusion of an asset in an index is not a recommendation to buy, sell or hold that asset. Exposure to an asset class represented by an index is available through investable instruments based on that index. We make no assurance that investment products based on an index will accurately track index performance or provide positive investment returns.
Some of the information provided in this presentation on the AGFiQ strategies is based on representative, fee-paying accounts. The information in this presentation is for illustrative purposes only. This document does not constitute or form part of any offer for sale or solicitation of any offer to buy or subscribe for any securities nor shall it or any part of it form the basis of or be relied on in connection with, or act as any inducement to enter into, any contract or commitment whatsoever.