Indxx Hedged Dividend Income Currency-Hedged CAD Index
By: AGFiQ • October 7, 2019
The Indxx Hedged Dividend Income Currency-Hedged CAD Index ("Index") is a sector neutral index which is designed to track the performance of a strategy utilizing long positions on high dividend paying companies, short positions on no or low dividend paying companies and long positions on Indxx Cash Index.
Current Income Challenges Affecting Equity Valuations
The demand for income has never been greater. However, as investors face yield constraints on fixed income and skyrocketing valuations on high dividend paying equity, finding the right solution for income has become challenging. An alternative source of income can help portfolios provide a more stable income stream while reducing exposure to volatility.
A History of Providing Greater Yield
Since 2014 the Index has had an average yield of 5.66%*. This is achieved by maintain a greater long position in dividend paying securities and shorting those with very low or no dividends.
Index Net Yield = Long Stock Yield – Short Stock Yield + Cash Collateral Yield
| | | | | |
| --- | --- | --- | --- | --- |
| | Long Positions Yield | Short Positions Yield | Cash Yield | Net Dividend Yield |
| 2014 | 4.98% | 0.51% | 0.02% | 4.49% |
| 2015 | 6.17% | 0.64% | 0.03% | 5.56% |
| 2016 | 5.41% | 0.43% | 0.17% | 5.15% |
| 2017 | 5.02% | 0.45% | -0.07% | 4.50% |
| 2018 | 6.31% | 0.64% | 1.73% | 7.40% |
| YTD 2019 | 5.28% | 0.51% | 2.09% | 6.86% |
| Average Yield | 5.53% | 0.53% | 0.66% | 5.66% |
Past performance is not indicative of future results. The inception date of the index is 02/04/2013. Index yield shown above is calculated on an annual basis by the index provider, the partial year of 2013 has not been included. *Source: INDXX Hedged Dividend Income Index (IDIVALS) as of June 30, 2019.
Equity-like Yield with Bond-like Risk
When we look at the trailing 12-month yield of the Hedged Dividend index relative to other more traditional equity and fixed income indexes we see that the Hedged Dividend index has produced a greater dividend yield with a lower 5-year standard deviation than equities with a risk profile that is closer to a bond index.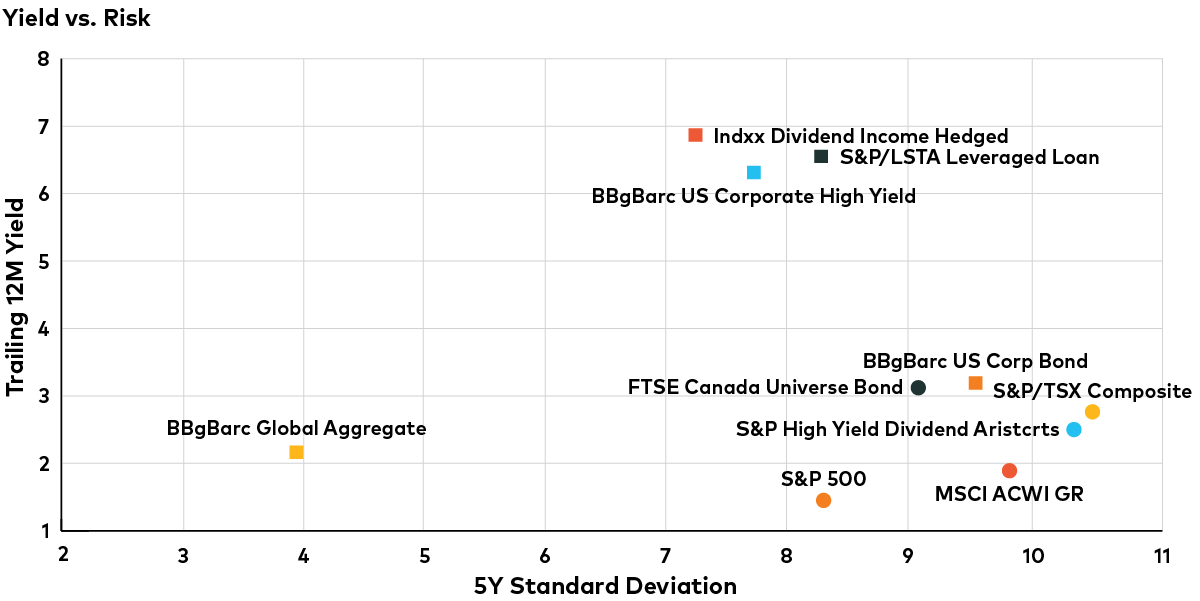 Source: Morningstar Research Inc. and Bloomberg as of 07/31/2019, in Canadian Dollars
The INDXX Hedged Dividend Income Currency-Hedged CAD Index is a product of Indxx, LLC and has been licensed for use. The ETF and its units are not sponsored, endorsed, sold or promoted by Indxx, LLC. Indxx, LLC makes no representation or warranty, express or implied, to the unitholders of the ETF or any member of the public regarding the advisability of investing in securities generally or in the ETF particularly, or the ability of any data supplied by Indxx, LLC to track general stock market performance. Indxx, LLC's only relationship to the ETF is the licensing of certain trademarks and trade names of Indxx, LLC and of the data supplied by Indxx, LLC which is determined, composed and calculated by Indxx, LLC without regard to the ETF or its units. Indxx, LLC has no obligation to take the needs of the manager, portfolio manager, sub-advisor or the unitholders of the ETF into consideration in determining, composing or calculating the data supplied by Indxx, LLC. Indxx, LLC is not responsible for and has not participated in the determination of the prices of the units of the ETF or the timing of the issuance or sale of such units. Indxx, LLC has no obligation or liability in connection with the administration, marketing or trading of the ETF or its units.
All information is in Canadian dollars. Past performance is not necessarily a guide to future performance. The value of investments and income from them can fall and rise. Investments denominated in foreign currencies are subject to fluctuations in exchange rates, which may have an adverse effect on the value of the investments, sale proceeds and on income. One cannot invest directly in an index.
This document may not be reproduced (in whole or part), transmitted or otherwise made available to any other party without the prior written consent of AGF Investments LLC and AGF Investments Inc.
Bloomberg Index Services Limited. BLOOMBERG® is a trademark and service mark of Bloomberg Finance L.P. and its affiliates (collectively "Bloomberg"). BARCLAYS® is a trademark and service mark of Barclays Bank Plc (collectively with its affiliates, "Barclays"), used under license. Bloomberg or Bloomberg's licensors, including Barclays, own all proprietary rights in the Bloomberg Barclays Indices. Neither Bloomberg nor Barclays approves or endorses this material, or guarantees the accuracy or completeness of any information herein, or makes any warranty, express or implied, as to the results to be obtained therefrom and, to the maximum extent allowed by law, neither shall have any liability or responsibility for injury or damages arising in connection therewith.