Asian Market Insight - China
By: AGF Asset Management Asia Ltd.¹ • March 23, 2018 • Products
Regional Outlook

Valuations remain reasonable in Asian markets, with earnings showing robust growth. Based on consensus
numbers, the Asia ex-Japan region is trading at approximately 13.1 times 2018 earnings with an expected
earnings growth rate of 13.1%.
Figure 1. Earnings Per Share (EPS) and Price Earnings (P/E) Growth Projections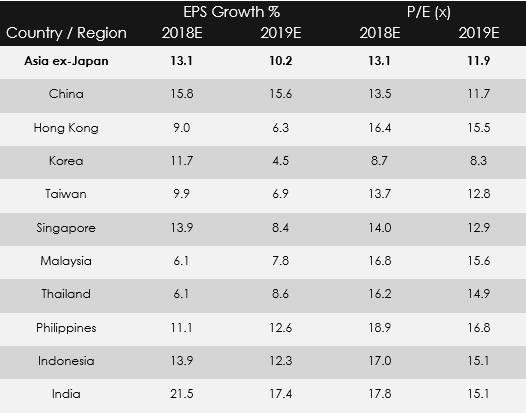 Source: IBES, as at Feb 28, 2018
On a trailing P/B basis, valuations have re-rated back to long-term historical averages. Compared to global
markets, Asian equity valuations still appear quite attractive. The MSCI World Index is trading at 2.4 times
trailing P/B1.

Figure 2. MSCI Asia ex-Japan Trailing Price-to-Book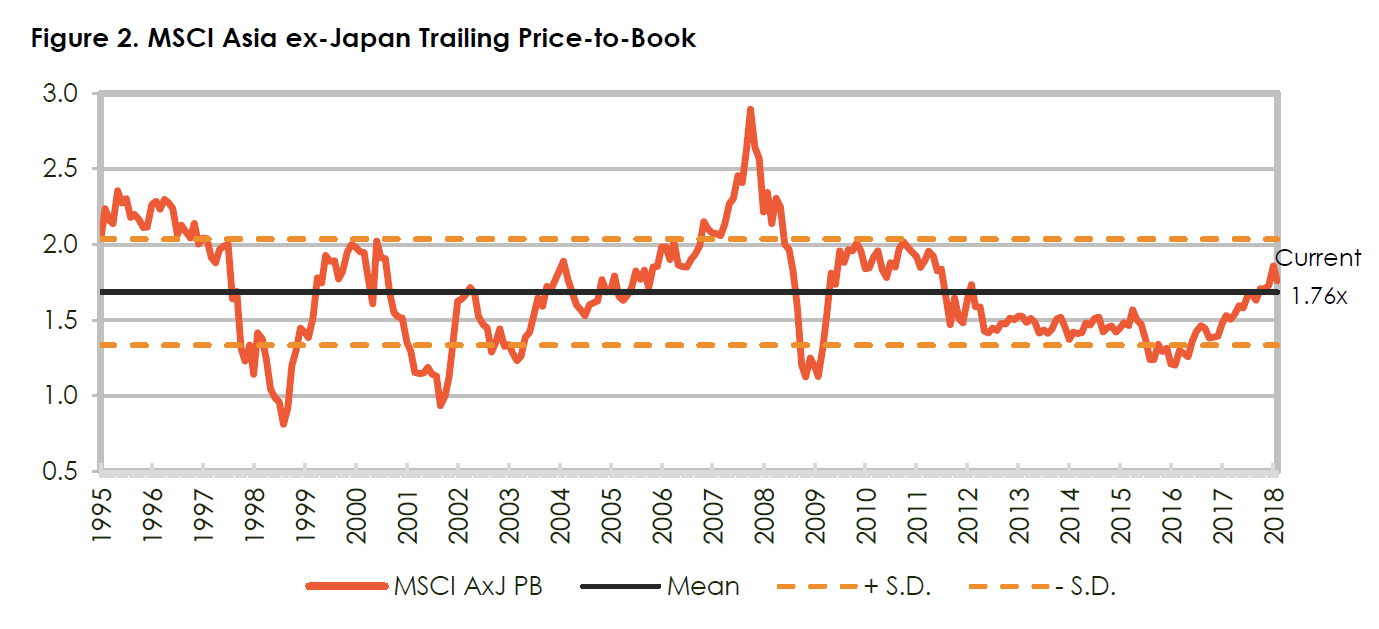 Source: Bloomberg as at March 15, 2018


Figure 3. MSCI China Trailing Price-to-Book
Source: Bloomberg as at March 15, 2018
China

January and February macroeconomic data
The market was initially concerned with a potential slowdown in Chinese economic growth following the
announcement of several leading indicators including the manufacturing PMI dropping to 50.3 in February,
the lowest level since mid-2016, as well as the non-manufacturing PMI which also moderated slightly.
However, these leading indicators could be affected by strong seasonality effects, as the Chinese New
Year month tends to suffer a fall in activity. Subsequent economic data, particularly strong industrial
production growth, showed that the January-February macro activities in China were generally stronger
than initially predicted.
Meanwhile, price pressures have increased somewhat. China's CPI inflation rose to 2.9% in February with
higher costs across a broad base of inputs. In addition to food prices, health care and tourism, domestic
services prices also trended higher, which could be partly due to wealth effect from the housing boom in
recent years. Core inflation increased to 2.5% year-over-year in February but stood at a more moderate
2.2% for January-February as a whole. The higher CPI could partly be due to the lunar new year occurring
in February this year and the extreme cold weather during the festive period. We would expect China's CPI
to moderate in the coming months.
Tax cut
In 2018, the government plans to reduce taxes by over Rmb800 billion for businesses and individuals, and
reduce non-tax burden by over Rmb300 billion for small businesses, bringing the total proposed tax and fee
cuts in 2018 to over Rmb1.1 trillion. To help fund the tax reduction, the government plans to cut
expenditures by reducing the number of institutions and ministries.
Budget deficit
The 2018 budget deficit is set at Rmb2.38 trillion. This translates to a deficit of 2.6% of GDP, down from a
target of 3.0% for 2017. The lowered projected budget deficit is in line with the government's push to move
from a stage of high-speed growth to a stage of high-quality development and acts as a signal to officials
to rein in excessive spending in order to stabilize China's macro leverage ratio. Meanwhile, it may also
suggest that policymakers are more confident in China's economic growth in 2018 as we note that the
budget deficit ratio of 2.6% and total public budgeting amount to Rmb2.38 trillion implies a forecasted
nominal GDP growth rate of 10.7% in 2018.

China-U.S. trade relationship
U.S. President Trump has imposed tariffs of 25% on U.S. steel imports and 10% on aluminum, marking a
continuation of trade measures by the U.S. earlier this year. We estimate that the actual impact of the
trade measures on China will be relatively small, as steel and aluminum exports to the U.S. account for less
than 1% of China's total exports. Although we believe that China is likely to take a constructive approach
to U.S.-China trade frictions, as suggested by the recent visit by a senior party official, rising trade tensions
remain a risk for China and the broader Asian region in general. In particular, the U.S. Trade
Representative's Section 301 investigation into Chinese intellectual property rights' practices could result in
a broader range of restrictions on Chinese exports and investments into the U.S. and could trigger a strong
retaliatory response from China.
The Chinese renminbi

The Chinese renminbi continued its strengthening trend against the U.S. dollar and recorded approximately
a 3.0% appreciation year to date2. Much of the appreciation was owing to a weak U.S. dollar. Meanwhile,
factors including effective capital controls, stronger-than-expected economic growth and higher interest
rates in China also supported a strong renminbi.

Political

On the political front, the Chinese National People's Congress will soon be concluded. The key focus is on
the removal of term limits for China's president and vice president. This amendment to China's constitution
would allow President Xi to remain in power beyond 2023. In practice, this means President Xi will continue
to push through a number of reforms and initiatives including the reform of state's control of the economy,
anti-corruption as well as 'one belt and one road' initiative.
Another significant change is naming of Yi Gang as the country's new central bank chief to replace
Governor Zhou Xiao-Chuan, who is set to retire this year. Mr. Yi, who has served as the deputy governor of
the People's Bank of China since 2008 will ensure policy continuity, in particular, recent moves to contain
excessive debt increases and measures to curb the growth of shadow banking.
Korea

The Korean market received a boost last October on prospects of improved ties with China, as the Korean and Chinese governments agreed to normalize relations following the THAAD dispute. Still, the threat of North Korea and a potential nuclear war looms in the background, after several high-profile missile and nuclear tests by North Korea, as well as the exchange of increasingly provocative threats and insults between its leader Kim Jong Un and U.S. President Donald Trump.

However, relationships between the two took a dramatic and surprising turn recently, first with North Korea announcing plans to send a team to the PyeongChang Winter Olympics in South Korea. With the U.S. and South Korea agreeing to delay their joint military exercises until after the Winter Olympics, North Korea also agreed to high-level talks with South Korea, the first between the two Koreas in over two years. In early March, Kim further expressed an openness to addressing the issue of denuclearization with the United States, an offer which led to Trump agreeing to meet the North Korea leader for a summit in May. Just prior to that, South Korean President Moon is also set to hold a summit with Kim by the end of April. Meanwhile, more definitive progress is being seen with improvement of ties between South Korea and China. On March 12th, major staterun travel agency, China International Travel Services resumed the marketing of group tours to South Korea on their website. Private operators are expected to follow shortly.
Southeast Asia

In Southeast Asia, Indonesia's economy remains benign. GDP growth was roughly 5% in 2017 and inflation was approximately 3.8%3, within the central bank's target of 3% to 5%. However, its current account balance continues to be negative, at around -1.7% of GDP3. Despite the general increase in commodity prices last year, imports continued to outpace exports. For the Philippines, the economy remains robust with ~6.7% growth in 20173, but inflation could move towards 4%, the upper range of the central bank's target. Its current account balance has turned negative (estimated -0.5% of GDP in 20173) and may worsen in the coming years. This is due to rising capital goods imports to support the government's multi-year infrastructure push.

Economic conditions in Singapore, Thailand and Malaysia are healthy, supported by the external
environment with some domestic spillovers. Inflation looks well-behaved and their respective current account balances have remained in surplus positions. As their currencies are likely to be better supported, especially in an environment of rising U.S. interest rates, we are relatively more positive on the prospects of Singapore, Thailand and Malaysia markets.
Bloomberg, as of March 15, 2018
* AGF Asset Management (Asia) Limited (AGF AM Asia) is a wholly owned subsidiary of AGF Management Limited, a Canadian reporting
issuer. AGF AM Asia is registered as a portfolio manager in Singapore.
The commentaries contained herein are provided as a general source of information based on information available as of March 15,
2018 and should not be considered as personal investment advice or an offer or solicitation to buy and/or sell securities. Every effort has
been made to ensure accuracy in these commentaries at the time of publication; however, accuracy cannot be guaranteed. Market
conditions may change and the manager accepts no responsibility for individual investment decisions arising from the use of or reliance
on the information contained herein.
The information contained in this commentary is designed to provide you with general information related to investment alternatives and
strategies and is not intended to be comprehensive investment advice applicable to the circumstances of the individual. We strongly
recommend you consult with a financial advisor prior to making any investment decisions. References to specific securities are presented
to illustrate the application of our investment philosophy only and are not to be considered recommendations by AGF Investments. The
specific securities identified and described herein do not represent all of the securities purchased, sold or recommended for the portfolio,
and it should not be assumed that investments in the securities identified were or will be profitable.
Publication date: March 23, 2017