AGF U.S. Sector Class
By: • February 28, 2018 • Product Insight
Monthly Update
Summary
The Fund increased its cash weighting from 0% to 25% to 50% between February 8th and 12th as the market risk regime moved from Calm to Elevated to High Risk.
The Fund increased its currency hedge to 50% on February 14th to mitigate risk and reduce the return volatility associated with the increased cash position
Risk Regime - High Risk
Definition: In times of high market risk levels, the Fund's proprietary Market Risk Model will indicate a High-Risk Regime. In a High-Risk Regime, the Fund typically maintains a 50% cash allocation and the remaining 50% is invested with diversified exposure to all eleven GICs sectors based on the Fund's proprietary Sector Allocation Model.
Guidance:  Driven by the combination of deteriorating momentum and rising volatility, the market risk model moved into an Elevated Risk Regime in early February and further into a High-Risk Regime days after. As demonstrated in the chart below, the VIX surged to levels not seen since August 2015 and stayed above its 250-day moving average throughout the month. As of February 28th the fund was 50% invested in the US equity market and the rest was held in cash. The Market Risk Model will continue to assess the overall market attractiveness and determine the appropriate balance between equity and cash.
In the first week of February, the S&P500 index reversed its upward trend, partly due to rising yield concerns, although the economic and earnings backdrop remained healthy. The sudden increase in volatility resulted in the collapse of several popular volatility-linked ETF products and triggered worries surrounding crowding of short volatility trades and the potential consequences of their unwinding.  Although the market rebounded and recovered most of its losses in the following weeks, prevailing risks, such as a potential trade war and an aggressive Fed rate-hiking path, remain as threats to equity valuations.  In the face of these headwinds, the market maintains significant downside risk. In fact, near the end of the month, the new Fed Chairman Powell's more hawkish tone during his inaugural congressional testimony triggered investor anxiety and the equity market reversed course.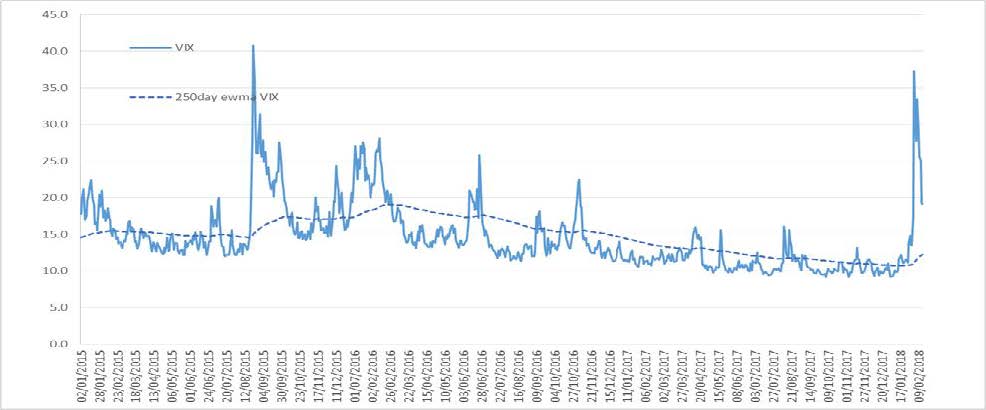 Source: Bloomberg, as of February 28, 2018
Risk Regime Changes - Timeline

Current Positioning & Sector Allocation Update
| Asset Class | % Allocation  |
| --- | --- |
| Equities | 50% |
| Cash Equivalents | 50% |
Source: AGF Operations, as of February 28, 2018
ETF Name
Weight
(Jan. 31, 2018)
Weight
 (Feb. 28, 2018)
Active Weight
vs. S&P 500
Consumer Discretionary Select Sector SPDR
12.7%
6.5%
-6.2%
Consumer Staples Select Sector SPDR
13.6%
6.6%
-1.0%
Energy Select Sector SPDR
1.0%
0.5%
-5.0%
Financial Select Sector SPDR
12.3%
6.4%
-8.7%
Real Estate Select Sector SPDR
2.2%
1.1%
-1.5%
Health Care Select Sector SPDR
17.0%
8.5%
-5.4%
Industrial Select Sector SPDR
7.2%
3.7%
-6.5%
Technology Select Sector SPDR
20.0%
10.6%
-16.4%
Materials Select Sector SPDR
5.8%
2.9%
0.0%
Utilities Select Sector SPDR
8.3%
4.1%
1.5%
SPDR Barclays Capital 1-3 Month T-Bill
0.0%
49.3%
49.3%
Source: AGF Operations, as of February 28, 2018.
Disclaimer
Published Date: March 28, 2018

Commissions, trailing commissions, management fees and expenses all may be associated with mutual fund investments. Please read the prospectus before investing. The indicated rates of return are the historical annual compounded total returns including changes in share or unit value and reinvestment of all dividends or distributions and does not take into account sales, redemption, distribution or optional charges or income taxes payable by any security holder that would have reduced returns. Mutual funds are not guaranteed, their values change frequently and past performance may not be repeated. The information contained herein is intended to provide you with general information related to investment alternatives and strategies and is not intended to be comprehensive investment advice applicable to the circumstances of a specific investor.

Commentary and portfolio characteristics are the opinion of the Portfolio Manager based on market conditions as of February 12, 2018. References or inferences to returns do not take into account any management fees, transaction costs, commissions, custodial fees, taxes or other costs that apply when purchasing securities. We strongly recommend consulting with a professional advisor prior to making investment decisions.

FFCM, LLC is a majority-owned subsidiary of AGF Management Limited acquired on November 17, 2015. The remaining ownership is held by FFCM's management team. This firm acts solely as a portfolio advisor to the Fund. A portfolio advisor provides the Fund with investment research and recommendations. They do not make investment decisions on behalf of the Fund.

The All World Tax Advantage Group is a mutual fund corporation that currently offers approximately 20 different classes of securities. In addition, to fund diversification by investment style, geography and market capitalization, a key benefit of investing in any of the classes within the group is the possibility of sharing incurred expenses (and losses) of the combined structure potentially offsetting income earnings to minimize the chance of a dividend declaration. While the articles of AGF All World Tax Advantage Group Limited provide authority to make distributions out of capital and AGF All World Tax Advantage Group Limited intends both to calculate capital in the manner contemplated by the corporate statute for corporations that are not mutual fund corporations and only to declare distributions out of capital if there is sufficient capital attributable to a series, no definitive case law exists to confirm that a mutual fund corporation may make distributions of capital and how it is to be calculated. Further, no advance income tax ruling has been requested or obtained from Canada Revenue Agency, nor is AGF aware of any published advance income tax ruling or the possibility of obtaining such a ruling, regarding the characterization of such distributions or the calculation of capital for such purposes.