A New Era of Computing - the AI Era Has Begun
By: AGF Investments Inc. • May 29, 2017 • Product Insight
The Next Major Disruptor is Here
With artificial intelligence (AI), machine learning (ML) and deep learning (DL) gaining critical mass, the world is starting to see extraordinary changes. Intelligent machines powered by AI computers can learn, reason and interact with people. Numerous companies of all sizes are trying to leverage AI to drive business innovation. Smartphones are able to translate universal languages in real time. Self-driving cars, led by efforts from Google (Alphabet Inc.), Tesla Inc. and Uber along with other traditional car companies, are expected to hit production within the next five years. Applications of AI can be extended to aerospace & defense, farming, finance, healthcare, manufacturing and more. The recent developments in AI are a result of improvements in computing power and growth of datasets, as organizations increasingly build out AI-enabled applications.
What is Artificial Intelligence?
AI is the high level way of adding intelligence to a device (computer, autonomous car) or a software application in the form of cognitive abilities. There are a wide range of AI applications including speech recognition, natural language, computer vision solutions and machine learning (ML). The main principle of ML, a subfield of AI, is the ability of machines to interpret data and "learn" without being programmed. Unlike hand-coding software with specific instructions, ML can apply knowledge from large sets of data and perform a task or make predictions – facial recognition, speech recognition, and more. DL uses some ML techniques to solve real-world problems by tapping into neural networks that simulate human decision-making.
Figure 1: Levels of Artificial Intelligence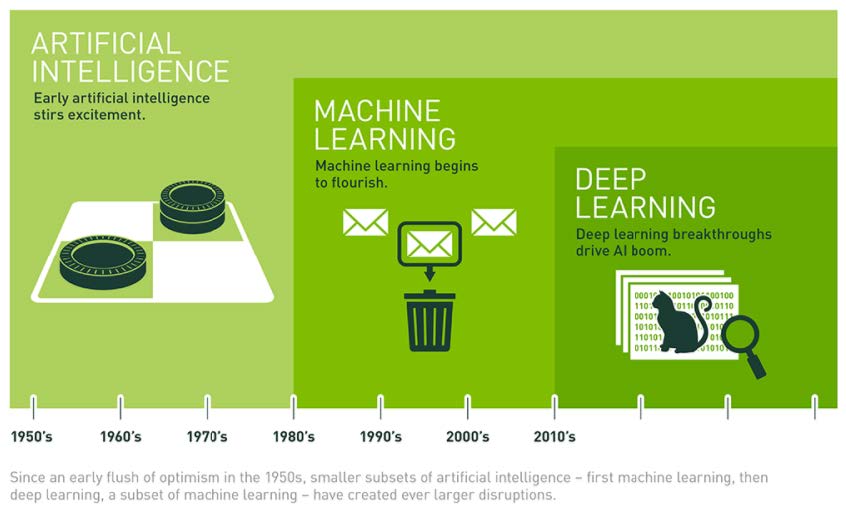 Source: NVIDIA Blog, as of April 2017
Deep learning requires massive datasets to train itself and thus can be expensive. There are a substantial number of parameters that need to be understood by a learning algorithm, which can initially produce many false-positives. For example, a DL algorithm could be instructed to "learn" what a cat looks like. It would take a very massive data set of images for it to understand the very minor details that distinguish a cat from, say, a cheetah or a panther or a fox.
The goal of "training" the neural network is to recognize images, spoken words, or suggest an item a person might like to purchase next.
How this is achieved is by running several iterations, which is computationally intensive. For example, in an image recognition network, the first layer might look for edges. The next might look for how these edges form shapes — rectangles or circles. The third might look for particular features — such as shiny eyes and button noses. Each layer passes the image to the next, until the final layer and the final output determined by the total of all those weightings is produced. "Inference" is just that – trying to infer things about the data. Inference can't happen without training.
---
AI in Your Daily Life
How often do you encounter AI? Perhaps more than you might think. Here are some popular examples of AI being used today:
Tesla –

Predictive capabilities, self-driving features ("autopilot"), over the air updates, and futuristic features.

Siri –

Apple's digital personal assistant. Uses ML to get smarter and predict and understand our questions and requests. Other platforms also offer personal assistants (Google Now on Android, Cortana and Windows Mobile).

Alexa –

Amazon's smart home hub detects speech and helps search the web for information, shop online, power smart homes, and more.

Amazon.com –

Amazon has used algorithms to predict the interest of the purchaser based on past online behavior.

Netflix –

Uses predictive technology based on customer reactions to films and viewers history to suggest films.

Pandora –

Based on 400 musical factors, songs are analyzed by a team of musicians. The system has a great track record of recommending songs that would otherwise go unnoticed.

Google's Nest –

Uses behavioral algorithms to predictively learn from your heating and cooling needs.

Video Games –

Shooter games such as Call of Duty use AI to allow enemies to adapt to their environments.
---
NVIDIA – A Leader in AI
We believe NVIDIA Inc., a top holding in AGF American Growth Class, is an enabler of AI. NVIDIA has benefitted from a rapid explosion of investment in machine learning from technology companies – and we are still in the early stages. AI today is quite pervasive in Internet service companies, but there are others in tech and in other industries that are trying to catch up. One such industry is automotive, as cars race to become fully autonomous. A second is healthcare, which has a lot of messy and unstructured data, but now computers can understand it to aid doctor's diagnoses.
At the center of AI are NVIDIA Graphics Processing Units (GPU). Traditional central processing units (CPU's) are unable to meet the learning computation needs of AI, and so chip players have proposed different architectures such as GPU's. GPUs offer parallel architecture that are designed to handle multiple tasks simultaneously to accelerate deep learning, analytics, and engineering applications (as opposed to CPU's which are optimized for sequential serial processing). All of the world's major internet and cloud service providers now use NVIDIA GPU accelerators: Amazon.com Inc. (AWS), Facebook Inc., Google, IBM, Microsoft, Alibaba.com, Baidu, and Tencent
Figure 2: NVIDIA's explosive data centre growth led by deep learning.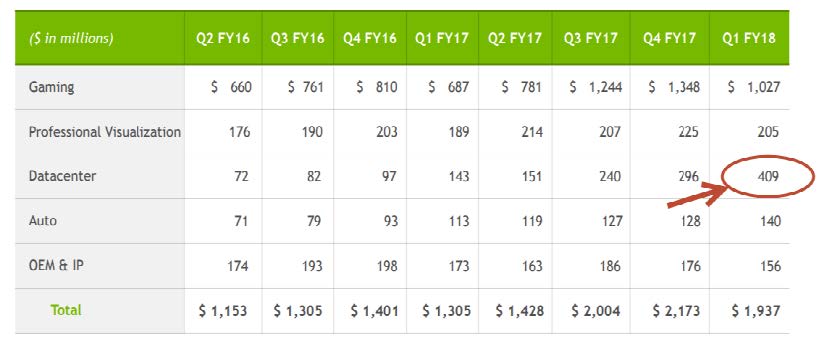 Source: NVIDIA, as of April 2017
In the past year, NVIDIA has seen rapid growth in their data center segment, reflecting surging interest in AI from Cloud service providers who continue to build training clusters for web services. In NVIDIA's latest quarterly earnings report, revenue was US$409 million, nearly triple year over year. NVDIA outlined their estimate of the 2020 data center total addressable market (TAM) of $30B ($4B high-performance computing, $11B DL Training, and $15B DL Inference). In addition, NVIDIA estimates that their Autonomous Driving TAM is $8B by 2025. NVIDIA recently partnered with (conservative) Toyota, indicating AV platform leadership.
AI in the Future
Although AI has been around since the 1950's (mainly in academia), it is still early in its maturation process. However, we are at a tipping point – the ability to recognize and respond to data flows using AI has the potential to automate a broad range of functions across many industries. Examples in use today include automated customer service agents, quality management investigation, diagnosis and treatment systems, and fraud analysis and investigation.
A recent report from IDC1 estimated that the market for cognitive and AI solutions will experience a compound annual growth rate of 55.1% over the next five years. Near-term opportunities for cognitive systems are in industries such as banking, securities and investments, manufacturing, retail, health care and education.
IDC also predicts that by 2019 all "Internet of Things" devices will merge streaming analytics, which would result in rapidly growing numbers of applications providing automated assistance based on machine learning, cognitive computing and AI (IDC report, as of October 2016). Technologies such as computer vision, speech recognition and natural language processing will see wider integration in areas such as drones, factory automation and automobiles.
In the future, ultimately AI will trend towards unconstrained problem solving capabilities. Future supercomputers will be designed as AI supercomputers, which means the system will be able to predict and infer through a large amount of training.
Figure 3: The Evolution of AI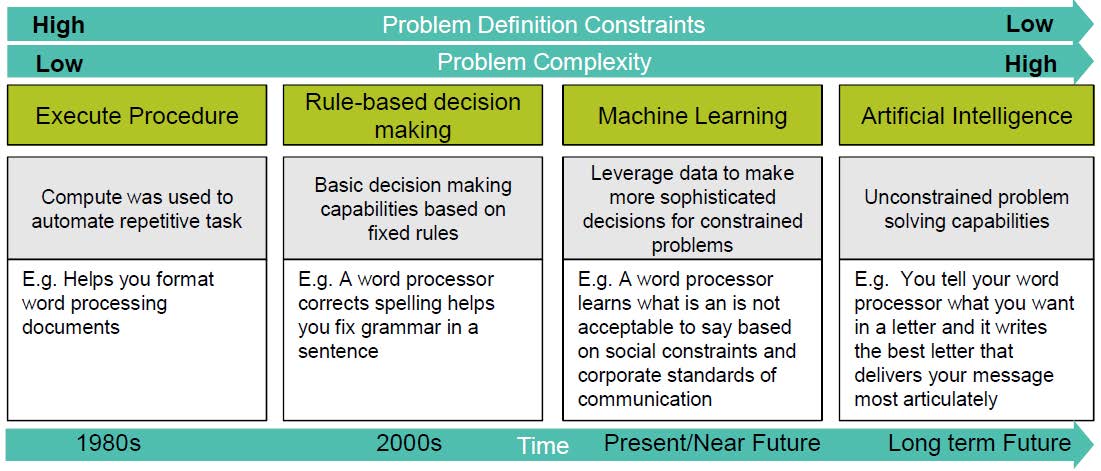 Source Bernstein Research, as of May 2017
Why Investors Should Take Notice
We believe AI will be a very large and important market in the future. The upside to AI will be for those that leverage AI functionality to deliver the best products in their markets (enterprise software, smartphones OS, autonomous cars, etc.) as well as that those that deliver the best development platforms with AI functionality that can be built into their solutions.
Longer term, AI will bring new products to market that solve problems we previously thought could not be solved. We favor companies that will be positively impacted by AI and thus currently own NVIDIA, Amazon, Facebook, Google and Adobe in AGF American Growth Class. We believe NVIDIA is the best pure play in AI as their GPU architecture is enabling deep learning. We also favor cloud players who have the data and tools to extract value from AI applications such as Amazon, Facebook, and Google. Furthermore, we believe Adobe has developed AI capabilities to enhance applications for their customers. We feel these companies are well positioned to thrive in this changing world and should gain profits disproportionately versus their peers.
For more information on U.S. equities, please visit AGF.com/US and contact your financial advisor.
---
The commentaries contained herein are provided as a general source of information based on information available as of May 15, 2017 and should not be considered as personal investment advice or an offer or solicitation to buy and/or sell securities. Every effort has been made to ensure accuracy in these commentaries at the time of publication; however, accuracy cannot be guaranteed. Market conditions may change and the manager accepts no responsibility for individual investment decisions arising from the use of or reliance on the information contained herein.
Commissions, trailing commissions, management fees and expenses all may be associated with mutual fund investments. Please read the prospectus before investing. Mutual funds are not guaranteed; their values change frequently and past performance may not be repeated. The All World Tax Advantage Group is a mutual fund corporation that currently offers approximately 20 different classes of securities. Investing in any of the classes within the group offers the following potential benefits and features: deferral of capital gains tax on transfers between classes, potential capital tax savings for corporate investors and fund diversification by investment style, geography and market capitalization. While the articles of AGF All World Tax Advantage Group Limited provide authority to make distributions out of capital and AGF All World Tax Advantage Group Limited intends both to calculate capital in the manner contemplated by the corporate statute for corporations that are not mutual fund corporations and only to declare distributions out of capital if there is sufficient capital attributable to a series, no definitive case law exists to confirm that a mutual fund corporation may make distributions of capital and how it is to be calculated. Further, no advance income tax ruling has been requested or obtained from Canada Revenue Agency, nor is AGF aware of any published advance income tax ruling or the possibility of obtaining such a ruling, regarding the characterization of such distributions or the calculation of capital for such purposes.
The information contained in this commentary is designed to provide you with general information related to investment alternatives and strategies and is not intended to be comprehensive investment advice applicable to the circumstances of the individual. We strongly recommend you consult with a financial advisor prior to making any investment decisions. References to specific securities are presented to illustrate the application of our investment philosophy only and are not to be considered recommendations by AGF Investments. The specific securities identified and described herein do not represent all of the securities purchased, sold or recommended for the portfolio, and it should not be assumed that investments in the securities identified were or will be profitable.