Asset Class Roundup
|
Alternatives
Canada's Private Credit Catch-Up
December 6, 2021
|
Canada's Private Credit Catch-Up
The country is home to one of the least mature private credit markets and potentially one of the most attractive.

Private credit is one of the fastest-growing categories of alternative investments in the world. It has doubled in size since 2015 and could hit US$1.45 billion in assets under management by 2025, according to Preqin, an alternative investment research firm.
But what's just as important to note heading into 2022 is the idea that some of the best opportunities to invest in the asset class won't necessarily be in geographic regions at the forefront of its recent growth – like the United States and Europe – but in places that are now playing regulatory catch up.
Canada, for instance, may be home to one of the developed world's least mature private credit markets, yet that's precisely why the runway for growth in the country is so potentially attractive. In fact, while the ultimate size of the Canadian market will never rival those found in larger jurisdictions, it could grow at a faster pace moving forward, as catalysts driving changes in corporate lending take hold just as they have elsewhere in recent years.
Perhaps the biggest kickstart in this regard is Canada's shifting regulatory environment and the impact of more stringent capital requirements to bank lending. Arguably, the "Big Six" banks in the country have been less affected by these changes than large banks facing similar restrictions in other countries since the Global Financial Crisis (GFC) a decade ago. But as time passes and regulations continue to tighten, each of them is now well into the process of tilting their loan portfolios to the most profitable segments. That, in turn, is creating a void that private lending may increasingly fill.
This is having a particular effect on the part of the credit market servicing mid-sized Canadian companies, which tend to generate less revenue for bank lenders than smaller businesses or larger corporate borrowers. Until recently, Canada's banks have crowded out non-bank lenders by having near-monopoly market share of 85% of loans outstanding in this niche, Government of Canada statistics show, but this weighting could fall dramatically if the U.S. is a barometer. Indeed, before the GFC, the largest U.S. banks accounted for about 75% of the U.S. mid-sized loan market. Now, that number is closer to 20%, according to Preqin data.
This same story has unfolded to varying degrees in Europe and countries such as Australia, which has a very similar bank landscape to Canada's. And if Canadian banks end up following suit, even to the smallest degree, it's more than likely that private lenders will be needed to pick up the slack. More importantly, many of the opportunities will likely be of high quality – so, not just high quantity – because mid-sized borrowers in the country have relatively low risk profiles compared with other segments.
Still, investors need to be diligent as more options for investing in private credit begin to surface in Canada. While the primary goal of the asset class will always be higher yields, it's an objective that often comes at an unreasonable cost – especially when underlying loans in an investment fund or strategy are not senior-secured or lack strong covenants and reasonable loan-to-value ratios to protect against fluctuating market valuations or, worse, default.
All that said, the future of private credit seems bright, both in Canada and other countries around the world. Yet only through due diligence can investors make the most of the opportunity.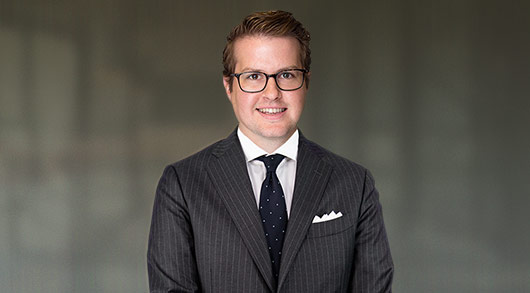 Managing Principal, CEO
SAF Group
Managing Principal, CEO
Mr. Dunfield is the Chief Executive Officer and Managing Principal of the SAF Group. He is responsible for the overall strategic mission of the business as well as capital raising and investment management, playing an active role with major transactions and realizations.
Prior to founding the SAF Group, Mr. Dunfield worked at an event-driven hedge fund, a Vancouver-based private equity manager, and, earlier in his career, at ATB Financial in its corporate and investment banking group. Over the past decade, he has served on the board of several public and private entities.
Mr. Dunfield, who is originally from Vancouver, British Columbia, earned his B.A. in Economics from the University of Calgary with a minor in Commerce.
Ryan Dunfield, Founder and CEO SAF Group. AGF and SAF Group have entered into an extended partnership that will focus on new private credit opportunities.
The views expressed in this article are provided as a general source of information based on information available as of December 6, 2021 and should not be considered as investment advice or an offer or solicitation to buy and/or sell securities. Speculation or stated beliefs about future events, such as market or economic conditions, company or security performance, or other projections represent the opinions of the author and do not necessarily represent the view of AGF, its subsidiaries or any of its affiliated companies, funds or investment strategies Every effort has been made to ensure accuracy in these commentaries at the time of publication, however, accuracy cannot be guaranteed. Market conditions may change and AGF accepts no responsibility for individual investment decisions arising from the use of or reliance on the information contained herein. Any financial projections are based on the opinions of the author and should not be considered as a forecast. The forward-looking statements and opinions may be affected by changing economic circumstances and are subject to a number of uncertainties that may cause actual results to differ materially from those contemplated in the forward-looking statements. Investors are expected to obtain professional investment advice.
AGF Investments is a group of wholly owned subsidiaries of AGF Management Limited, a Canadian reporting issuer. The subsidiaries included in AGF Investments are AGF Investments Inc. (AGFI), AGF Investments America Inc. (AGFA), AGF Investments LLC (AGFUS) and AGF International Advisors Company Limited (AGFIA). AGFA and AGFUS are registered advisors in the U.S. AGFI is a registered as a portfolio manager across Canadian securities commissions. AGFIA is regulated by the Central Bank of Ireland and registered with the Australian Securities & Investments Commission. The subsidiaries that form AGF Investments manage a variety of mandates comprised of equity, fixed income and balanced assets.
This document is for use by Canadian accredited investors, European professional investors, U.S. qualified investors or for advisors to support the assessment of investment suitability for investors.
® The "AGF" logo is a registered trademark of AGF Management Limited and used under licence.
RO:1933924