Policy, politics and prospects of a recession
By: Kevin McCreadie • December 12, 2018
Investors should avoid a recession next year, but not the threat of it as higher interest rates and growing geopolitical risk continue to weigh on the global economy and markets in 2019.
This shouldn't come as a surprise. Over the past few months, stocks, bonds and other asset classes have become more volatile in a potential sign of what's to come. That doesn't mean opportunities for gains have vanished, but a more selective approach will be a key ingredient for returns moving forward.
With that in mind, all eyes should be on the future direction of interest rates and, in particular, the U.S. Federal Reserve (Fed)'s next few moves. More than two years into the Fed's tightening cycle, investors have become increasingly leery of the prospects for a central bank misstep and whether less accommodative policy will cool the world's largest economy too quickly becoming a drain on corporate profits.

This may very well prove true. In the past, when inflationary pressures have increased like wage growth has now, it has been very difficult for central banks to "thread the needle" and find the right balance between rate hikes and sustained economic expansion.
To complicate matters further, corporations are starting to feel the bite of ongoing trade tensions between the U.S. and China. And if tariff rates increase in March as threatened by U.S. President Trump's administration, the impact on future earnings – especially U.S. companies with manufacturing in China – could be severe.
Will cooler heads prevail? More than likely, but getting the world's two biggest economies to reach a new agreement on trade will involve further brinksmanship along the way. At the same time, the "handshake" trade deal between the U.S. and European Union (EU) isn't a sure thing yet and more noise on that front should be anticipated.

Just how noisy may depend on the new political landscape in Washington, D.C. With the Democrats now in control of the U.S. House of Representatives, Trump's hardline approach towards trade may be tempered if it becomes necessary to steady equity markets, an important pre-requisite of his re-election.
A gridlocked U.S. Congress could also put a dent in some parts of the Republican's pro-market agenda and raises the spectre of a campaign to turf the U.S. President from office. While actual impeachment is highly unlikely given the Republican lock on the U.S. Senate, any attempt by the Democrats to kickstart the process would be unsettling for investors.
But U.S. politics aren't the only game to watch. In Europe, Italy's budget fight with the EU remains ongoing and Angela Merkel's decision to step down as Germany's Chancellor leaves a vacuum near the very top of the EU's political hierarchy.
GDP Growth Expectations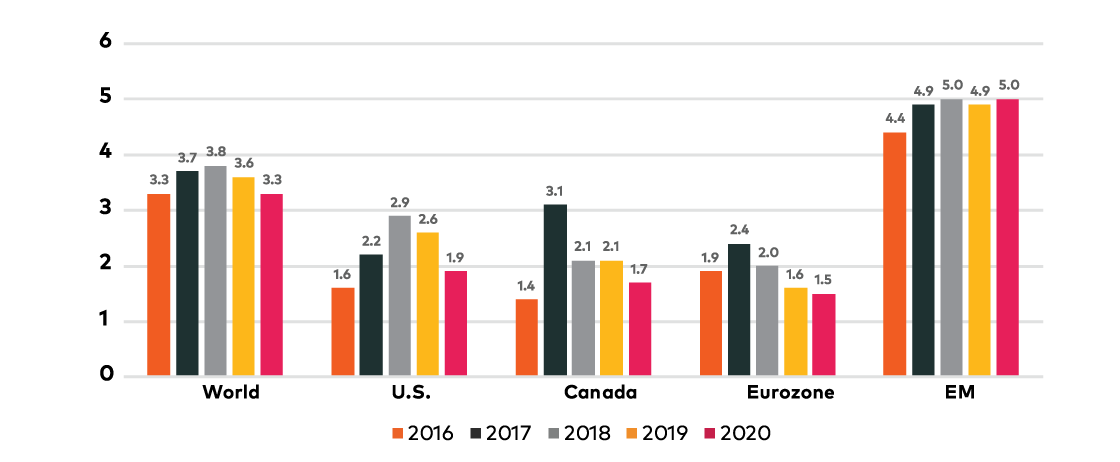 Source: Bloomberg, November 27, 2018. Real GDP (YoY%), 2018 to 2020 are consensus forecasts.
And then there's Brexit. The United Kingdom's decision to leave the EU has become a vicious game of chicken and will hang over markets at least until the deadline to reach a separation agreement at the end of March – if not longer.
While all of these political events have the potential to undermine stock markets next year (and give bond prices a boost), the satisfactory resolution of one or all of them could do just the opposite and act as a catalyst that keeps the bull market alive. And even if markets do retreat, a major pullback would very likely put the brakes on further rate hikes and be a silver lining for investors.
Ultimately, we believe a recession is unlikely over the next 12 months and that equity markets are poised to grind higher in a highly charged environment marked by low returns, higher volatility and the potential for big selloffs.
In particular, we remain positive on U.S. equity markets and see opportunities in emerging markets, which, after a challenging 2018, are more attractively valued. And while we head into the year favouring stocks over bonds from an asset allocation standpoint, we think the worst may be over for the latter and see more opportunities to put money to work in this much-maligned asset class as the year progresses.
Commentaries contained herein are provided as a general source of information based on information available as of December 7, 2018 and should not be considered as personal investment advice or an offer or solicitation to buy and/or sell securities. Every effort has been made to ensure accuracy in these commentaries at the time of publication; however, accuracy cannot be guaranteed. Market conditions may change and the manager accepts no responsibility for individual investment decisions arising from the use of or reliance on the information contained herein. Investors are expected to obtain professional investment advice.
AGF Investments is a group of wholly owned subsidiaries of AGF Management Limited, a Canadian reporting issuer. The subsidiaries included in AGF Investments are AGF Investments Inc. (AGFI), Highstreet Asset Management Inc. (Highstreet), AGF Investments America Inc. (AGFA), AGF Asset Management (Asia) Limited (AGF AM Asia) and AGF International Advisors Company Limited (AGFIA). AGFA is a registered advisor in the U.S. AGFI and Highstreet are registered as portfolio managers across Canadian securities commissions. AGFIA is regulated by the Central Bank of Ireland and registered with the Australian Securities & Investments Commission. AGF AM Asia is registered as a portfolio manager in Singapore. The subsidiaries that form AGF Investments manage a variety of mandates comprised of equity, fixed income and balanced assets.
Publication date: December 12, 2018