Gold Stocks on Sale Again
By: Ani Markova • April 11, 2018 • Markets
Precious Metals Outlook: April 2018
It is hard to say if investors have gone on strike or are completely overlooking resource companies in favour of other sectors such as technology.
While gold bullion has gotten a boost from global trade wars, geopolitical tensions and increased U.S. fiscal spending budgets, gold stocks haven't been so fortunate, falling almost 7% (in USD) since the beginning of the year.
This unusual divergence may require more patience from investors, but it's lining up as an excellent opportunity to purchase high quality names in the precious metals space at discounted prices.
Figure 1: Gold Price vs SPTSGD Index (USD Price Performance)
Implications for markets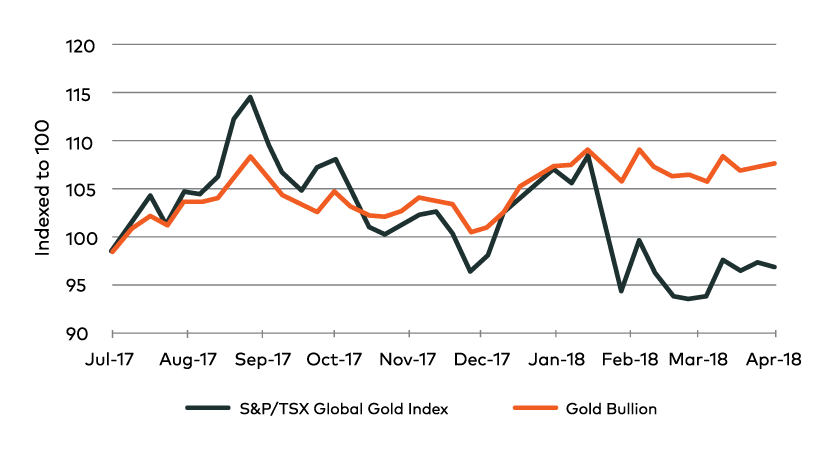 Source: Bloomberg
This is not the first time that gold stocks have disconnected from the price of the underlying commodity. They also underperformed from mid-2010 to mid-2013 because of industry-wide capital overruns, missed operational targets and excessive borrowing that led to multiple compression in share prices.
This time around, the industry is in much better shape financially – balance sheets have been repaired, operational costs are stable, and cash flows and dividends are more sustainable. As such, gold stocks are being tripped up by a different set of circumstances. Speculative capital, for instance, has seemingly abandoned the resource sector in favour of cryptocurrencies and cannabis stocks. Meanwhile, gold mining operations are under fire from governments and NGOs who seek economic benefits or political leverage in various jurisdictions around the world. Some examples include Tanzania, where Acacia Mining PLC's concentrate exports were recently halted over perceived unpaid taxes; Guatemala, whose government suspended Tahoe Resources Inc.'s operational permits due to a legal dispute with an NGO over indigenous consultation practices; and the Democratic Republic of the Congo (DRC), whose government is revising its mining code to raise taxes.
Investors are also nervous about recent taxation reviews of some streaming and royalty companies and seem fearful of rising prices for fuel, consumables and labour at a time when many companies are looking to spend again on their pipelines and growth projects.

Given this backdrop, it's understandable that gold stocks have slumped. We believe the selloff may
be overdone, however, and have identified four key opportunities resulting from the current divergence that could give a boost to select names in the sector over the coming months.
Figure 2: Gold Equity Premium / Discount to the Gold Price (%)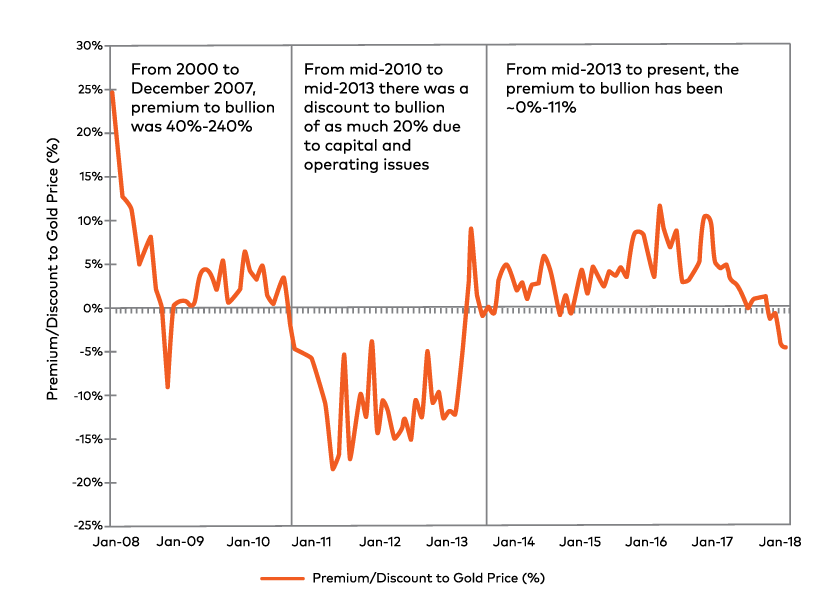 Source: FactSet, Scotiabank GBM estimates
Fund flows could lead to big returns. We believe the valuation gap between gold stocks and bullion will eventually attract renewed interest in the precious metals sector. And given the universe of all publicly-traded precious metals companies is relatively small at approximately US$400 billion, (or about half of Apple Inc.'s market capitalization), even a small capital allocation by large institutional funds would lead to outsized demand for stocks.
Perceived vs. actual geopolitical risk. We believe geopolitical risks can be largely avoided by staying clear of certain jurisdictions or appropriately discounting our valuations for those companies caught up in a dispute. In certain circumstances, the market's overreaction to news headlines, such as the recent U.S. sanctions against Russian oligarchs, provides an opportunity to invest in names like Kinross Gold Corp., which sold off based on its Russian exposure despite having no business relations with the named individuals and being domiciled in Canada.
At current gold prices (above US$1,300), miners are making money. The total average breakeven cost for the industry is estimated at US$1,270 this year, which is 1% higher compared to last year, though still down 13% from the peak of 2012. While investors may be waiting to see higher free cash flow (FCF) yields or the spot price break the technical US$1,370 resistance level, we believe the current environment provides an attractive buying opportunity. We expect cash margin expansion within the space to be strong over the next couple of years and remain focused on investing in companies with solid business plans that can deliver attractive capital returns.
Markets seem to be neglecting junior miners and exporters. This segment has underperformed since last year despite many companies delivering positive progress updates on both exploration and technical/permitting de-risking of their projects. We maintain our view that good quality assets in stable jurisdictions will attract attention if not from investors, then from other mining companies that need to replenish their pipelines. As we stand today, the industry is faced with shrinking mine life – currently at about 12 years – which should be supportive of junior miners.
Even beyond these potential catalysts, there are good reasons to think gold stocks can rebound. For one, single asset companies and exploration assets are expected to further consolidate and further de-risk giving share prices a boost. Some of the recent M&A transactions that we have seen this year are takeovers of assets in the U.S. (Hecla Mining Co. acquiring the U.S. assets of Klondex Mines Ltd., Alio Gold Inc. acquiring Rye Patch Gold Corp.) and JV/equity stakes (Gold Fields Ltd.'s 50% JV with Asanko Gold Inc., Semafo Inc. taking a 15.5% equity stake in Savary Gold Corp.).
At the same time, we expect bullion prices to move even higher – to the eventual benefit of gold stocks – as the U.S. Federal Reserve contemplates a more gradual rate of interest rate hikes against a backdrop of strong economic activity and weakness in the U.S. dollar, which could push inflation higher.
Valuations are also generally attractive with stock prices having fallen below net asset values (NAV) and sustaining cash flow valuation metrics close to two standard deviations below their historical averages. And this isn't just true of gold. We are particularly optimistic on silver, as its current underperformance relative to gold has caused the kind of spike in the gold-to-silver ratio that usually predicts a reversal trend is close at hand.
Figure 3: Gold-to-Silver ratio since 1970's
Source: Bloomberg, California Division of Motor Vehicles, as of January 2018
Source: Bloomberg
Ultimately, precious metals equities represent an attractive risk/reward investment opportunity and we remain constructive on companies with quality assets and strong management teams over the longer time horizon. In this environment, active stock selection and diversification is exceedingly important in a complex industry with many exogenous factors. Diversifying geographic, operational and liquidity risks has always been our focus and we intend to stay the course in the current volatile market.
The commentaries contained herein are provided as a general source of information based on information available as of April 10, 2018 and should not be considered as personal investment advice or an offer or solicitation to buy and/or sell securities. Every effort has been made to ensure accuracy in these commentaries at the time of publication; however, accuracy cannot be guaranteed. Market conditions may change and the manager accepts no responsibility for individual investment decisions arising from the use of or reliance on the information contained herein. Any financial projections are based on the opinions of the portfolio managers and should not be considered as a forecast. The forward looking statements and opinions may be affected by changing economic circumstances and are subject to a number of uncertainties that may cause actual results to differ materially from those contemplated in the forward looking statements. The information contained in this commentary is designed to provide you with general information related to investment alternatives and strategies and is not intended to be comprehensive investment advice applicable to the circumstances of the individual. We strongly recommend you consult with a financial advisor prior to making any investment decisions.
References to specific securities are presented for illustrative purposes only and should not be considered as investment advice or recommendations. The specific securities identified and described herein should not be considered as an indication of how the portfolio of any investment vehicle is or will be invested, and it should not be assumed that investments in the securities identified were or will be profitable.
AGF Investments is a group of wholly owned subsidiaries of AGF Management Limited, a Canadian reporting issuer. The subsidiaries included in AGF Investments are AGF Investments Inc. (AGFI), Highstreet Asset Management Inc. (Highstreet), AGF Investments America Inc. (AGFA), AGF Asset Management (Asia) Limited (AGF AM Asia) and AGF International Advisors Company Limited (AGFIA).
AGFA is a registered advisor in the U.S. AGFI and Highstreet are registered as portfolio managers across Canadian securities commissions. AGFIA is regulated by the Central Bank of Ireland and registered with the Australian Securities & Investments Commission. AGF AM Asia is registered as a portfolio manager in Singapore. The subsidiaries that form AGF Investments manage a variety of mandates comprised of equity, fixed income and balanced assets.
Publication date: April 26, 2018