Help
How to upgrade your browser for TLS 1.2 support
AGF is upgrading the security of our website on Thursday May 24, 2018. If you are seeing alerts on AGF.com, it is because your browser has been identified as not supporting TLS 1.2. Anyone with an unsupported browser will not be able to login or use My Book after the update.
Recommended Resolution
AGF recommends you upgrade your browser to the latest version, which will support TLS 1.2.
Alternate Resolution
Some browsers may support updated security, but require you to turn it on.  Instructions for how to update your browser are below.  If you can't perform one or more of these steps because you do not have Adminstrative Access to your computer, please contact your I.T. team for assistance. 
How to update Microsoft Internet Explorer:
Open Internet Explorer
Locate the menu bar at the top window, click Tools > Internet Options > Advanced.
Scroll down to Security section and select Use TLS 1.2.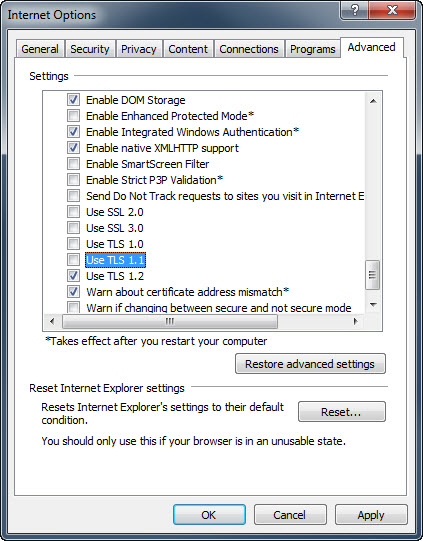 How to update Google Chrome:
Open

 

Google Chrome
Click

 

Alt F

 or the dotted vertical line in the top right 

and select

 

Settings
Scroll down and select

 

Show advanced settings or select Advanced from the left hand menu.
Scroll down to the

 

Network or System

 

section and click on

 

Change proxy settings or Open proxy settings
Select the

 

Advanced

 

tab
Scroll down to

 

Security

 

category, and select Use TLS 1.2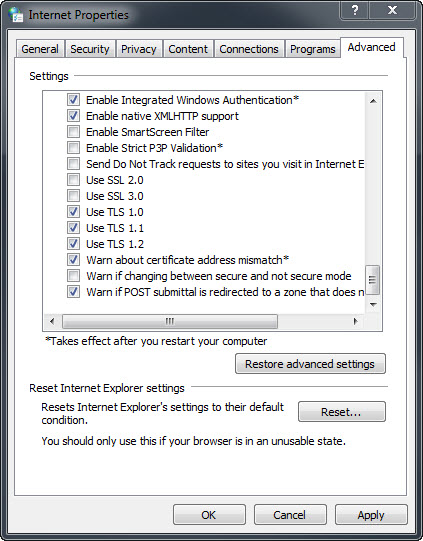 How to update Mozilla Firefox:
Open

 

Firefox
In the address bar, type

 

about:config

 

and press Enter
In the

 

Search

 

field, enter

 

tls. Find and double-click the entry for

 

security.tls.version.min
Set the integer value to 2 to force protocol of TLS 1.2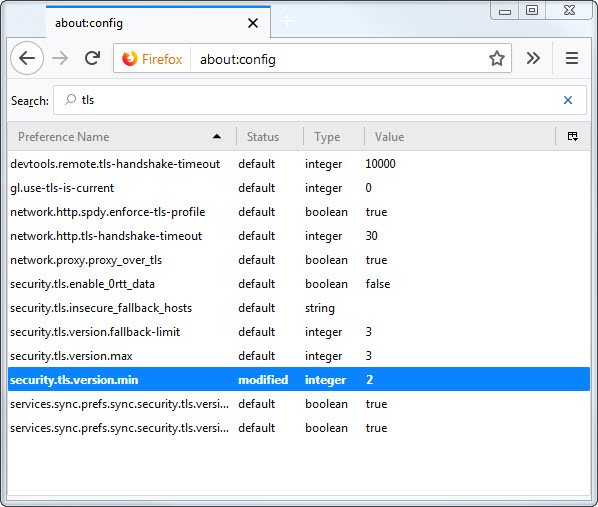 How to update Apple Safari:
Safari version 7 or higher already supports TLS 1.2 and no action is needed.  If you are not using Safari version 7, please upgrade.