1970s | Challenging Times
"A year of crises is perhaps the best description of 1973."
Despite the difficult conditions of the 1970s and early 1980s, AGF never once reported a loss. At the same time, its funds consistently outperformed the markets.
1971 | US$ Delinked from Gold

For AGF, it meant a temporary crisis of confidence in its flagship American Growth Fund – investors who'd taken comfort that their investments were backed by gold were suddenly deprived of this security blanket.
1972 | Acquisition Makes AGF Second-Largest Mutual Fund Company in Canada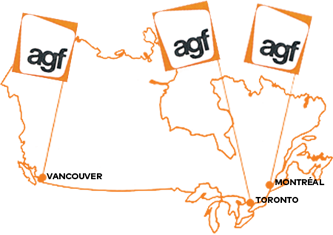 Following the acquisition of Canadian Security Management (CSM), AGF added a Japan Fund to its lineup. It was the first-ever Canadian fund to invest in Japan. This acquisition not only made AGF the second-largest mutual fund company in Canada, but again placed the firm at the forefront of industry innovation.
1973 | Change in Leadership


In 1973, Warren Goldring replaced Allan Manford as Company President. Allan Manford remained as Chairman.
1975 | A Symbol of Growth
The new logo was chosen to symbolize the many areas into which AGF Companies had diversified since the early 1960s.
1976 | Another Industry First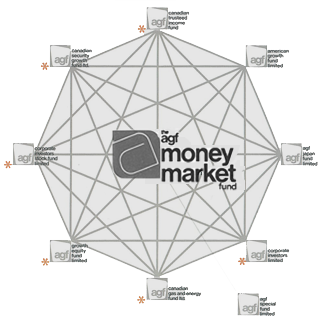 In yet another innovative move, in 1976, AGF established the first Canadian money market fund. The perfect antidote to the understandably cautious investment temperament of the times, the fund was a major success.
"The most important asset of your Company is the staff. The year 1978 demonstrated again that they are dedicated and hard working and becoming ever more proficient in their respective responsibilities. Their efforts are fully appreciated."
Warren Goldring, Feb. 1979